At the beginning of the twentieth century, retailer John Wanamaker said, "Half the money I spend on advertising is wasted; the trouble is I don't know which half." At the time, advertising was print-based with little ability to target spend. A century later, we have analytics, intent data, and AI which help us define whom to call, when to call, and what to say. With Account Based Marketing (ABM), firms no longer need to guess at marketing spend. ABM marries Ideal Customer Profiles, Buyer Personas, high-quality contact information, and intent data into a strategic go-to-market strategy for B2B firms.
Use Ideal Customer Profiles to define your best-fit buyers
An Ideal Customer Profile (ICP) simply defines who are your best-fit customers (i.e., high yield, low churn) by key attributes. The Ideal Customer Profile or Ideal Buyer Profile should not be confused with Buyer Personas, which focus on specific roles at organizations. While both look to define your buyers, ICPs are account-based while Buyer Personas are lead-based. Thus, you will likely have multiple Buyer Personas attached to an Ideal Customer Profile. Buyer Personas focus on the buying committee roles at your Ideal Buyers.
Ideal Customers include current customers and prospects along with companies that are similar to your best customers. ICPs expand your ABM target list to additional firms that are not currently on your radar, but which are look-a-likes to your best accounts. As such, the Ideal Customer Profile defines both your best accounts and who to target next.
The data behind Ideal Customer Profiles
Ideal Customer Profiles are defined by firmographics (size, location, industry), technographics (deployed technology) and historical data. Intent, however, is ephemeral. It flags when a company is in market for specific solutions. As such, it should be excluded when defining your initial list of ABM targets, but becomes very valuable when executing specific campaigns or passing nurtured leads off to sales. Analyzing intent data can also help you uncover Ideal Buyers that you may have overlooked and thereby expand your total audience.
The Ideal Customer Profile defines which companies to pursue while intent defines when to pursue them.
A company that is in-market today is much more likely to be purchasing a solution in the next few months. Since the opportunity is time-sensitive, acting quickly is paramount. The Ideal Buyer Profile defines which companies to pursue while intent defines when to pursue them. When intent is low at an Ideal Buyer, marketing should nurture the account; but when intent surges, sales should be actively reaching out to the prospect.
The different types of intent data
Intent data comes in multiple varieties. First-party intent is collected directly by marketing. It consists of behavioral signals such as site visits, webinar attendance, email click-throughs, and downloads. Bombora, DealSignal's recently announced intent data partner, aggregates third-party intent data from a co-op of nearly 4,000 B2B media sites. Bombora intent is based on activity such as keyword searches, article views, and white paper downloads. Open-web research is then categorized across 6,000 B2B topics and three million companies. No personally identifiable information is gathered as third-party intent is tracked anonymously and rolled up to the account and topic level.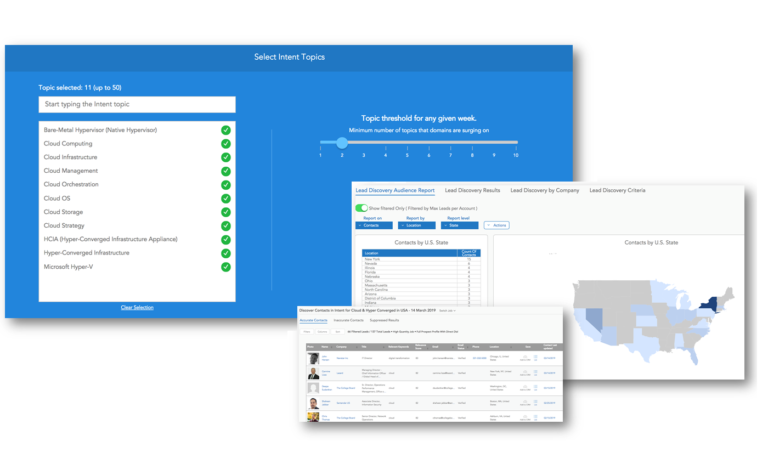 To prevent confusing large employment with intent, Bombora does not report actual event counts but sets a baseline average for each firm and company pair. They then determine whether recent activity is above or below this historic average. It is when the Bombora Surge Score is high that a company is likely to be in-market for a solution related to the topic. When intent is high at an ABM account, it is time for sales to pounce.
When intent is high at an ABM account, it is time for sales to pounce.
Maximize conversions with ABM + intent
True ABM leverages Ideal Customer Profiles, Buyer Personas, and intent data to indicate which companies are actively researching topics relevant to your business. This marriage helps define which companies to reach out to (Ideal Buyers), when to reach out to them (intent), and whom to contact (Buyer Personas associated with high-quality contact data).
When you link all these tools, you have the leads John Wanamaker could only dream about – the set of accounts and contacts that drive revenue. ABM provides a highly actionable go-to-market strategy based on fitness, intent, and persona-based purchaser intelligence. These are the leads most likely to convert. These are the leads that sales reps have long demanded from marketing.
LEARN HOW DEALSIGNAL DRIVES ABM EFFECTIVENESS
About the author: Michael R. Levy is the Principal of GZ Consulting, a market research and competitive intelligence consultancy which focuses on the information services industry. Services include market sizing, market research, competitive profiling, product strategy, licensing advice, competitor benchmarking, and sales enablement. His weekly Market Insights Newsletter covers the Sales Intelligence, DaaS, Data Hygiene, and Predictive Analytics spaces. Follow Michael on Twitter @Michael_R_Levy.