A CRM database is a complex system of data storage that contains the information you've collected on people and organizations that have come into contact with your business. The data is typically organized into tables with fields and cells, like an Excel spreadsheet. The database will also contain other functions and automated rules for entering new data and editing the existing data.
CRM databases can be homebrews that are built using Microsoft Access or a similar SQL database system, but most companies will typically use dedicated CRM software, such as Salesforce or HubSpot. These CRM systems include numerous additional features and functionality that make data entry, management, and organization much easier.
Generally, we can categorize all the data within a CRM database into two main types:
Contact data (data on individual leads, customers, etc.)
Account data (data on businesses and other organizations)
Within these two, there are many other subcategories of data:
CRM contact data types and examples
Below are some types of data on contacts that are commonly found in a CRM:
Their identity (first name and last name)
Their contact information (work email, personal email, direct phone number, LinkedIn page, country, address, city, state, zip code, etc.)
Their employment information (job title, company name, industry, etc.)
How they've interacted with your business (date created, lead status, how they got to your website, pages visited, forms filled, number of engagements, notes on sales calls, etc.)
Without question, the most important of these is the contact information. After all, what good is having someone in your CRM if you can't contact them effectively? The other data is primarily used by Sales and Marketing to segment these users into different groups, like emailing contacts at specific companies or following up with leads that engaged with certain content. Without accurate contact data, though, all the other data is useless.
CRM Account Data Types and Examples
Likewise, these are the most common types of account data in a CRM:
Name of the business or organization

Domains and webpages (website domain, email domain, company social media pages, etc.)

Business contact data (office locations, phone numbers, etc.)

Financial information (revenue, information on funding events, etc.)

Other business information (organization type, number of employees, industry, etc.)

Intent data

, typically provided through an integration

Technographics (data on MarTech and sales tech stacks)
As you can probably imagine, the methods used to enter all this data into the CRM and update it will have a profound effect on the quality of the data and, subsequently, the results of the Sales and Marketing teams using it. So, how is the data entered and where do the cracks start to show?
CRM Data Entry and Management
CRM data entry is the insertion of new information into the database. This can happen via several different methods and processes:
Manual data entry is when a user working for your company, typically in Sales or Marketing, enters new data into the system. For example, if a contact informs someone in Sales that their email address is changing, the Sales representative might enter the new email into the system and replace the old one.
Bulk imports are another method of manual data entry where a user working for your company imports a list of data, typically in CSV format, to update existing entries, create new contacts, or create new accounts.
User-generated data is entered when a user who does not work for your company takes an action that results in data being directly entered into the CRM database. This typically happens when users fill forms on your website.
Workflows are automated processes that add, remove, or edit the data within your CRM system depending on different conditions.
Integrations. It's common for businesses to have other systems that integrate with their CRM to add, remove, or edit data within the system. Integrations are typically automated processes. One example of this is data enrichment, which enhances and improves the data that's been entered into the system in other ways.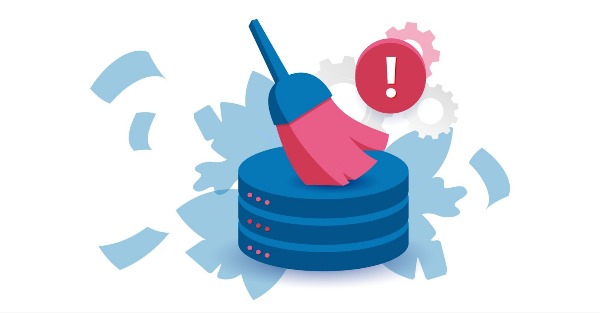 CRM Data Management and Cleansing
Making sure that all these methods of data entry don't cause any problems requires good CRM data management. CRM data management refers to the structuring and organization of the information within the CRM system as well the automation of changes to it. It's the responsibility of the person managing the system, typically a CRM Analyst or CRM Manager, to ensure that the data's integrity and quality are maintained. They do this using the methods and processes listed above and by following the best practices of CRM data management. Some of their primary concerns and duties include:
CRM data analysis. The CRM Analyst will typically sort, filter, and review the data in order to discover insights and opportunities. For example, finding ways to improve data management or for Sales and Marketing to take advantage of patterns found among certain segments of contacts and accounts. They also create dashboards and reports to streamline their analyses.
Proper formatting and standardization of data. It's a best practice for all the data within a single field in the CRM to be formatted in the same way. Improper formatting can cause issues with "find & replace" functions, sorting, and more. The most egregious examples of this are when entirely different data, such as notes, are entered into fields that require a strict format, like email. I still have nightmares about seeing "none@none.com" in an email field.
Careful management of automation and workflows. Workflows are a powerful tool that can vastly improve the usefulness of the data within your CRM. However, improperly-designed workflows can cause as many problems as they solve.
Training sales and marketing on data entry procedures is one of the most crucial duties and concerns of the CRM Analyst and/or CRM Manager. Manual data entry and bulk imports can cause a lot of different issues when performed improperly, so it's crucial for the person or team managing the CRM to create and disseminate training materials to help mitigate these problems.
CRM data cleansing is the process by which the CRM Analyst or Manager removes or replaces bad data from the system. Manual data cleansing can be extremely inefficient and time consuming, however. The most efficient and effective method of performing a CRM data cleanse and refresh is to automate it with integrations like DealSignal CRM Data Health.
As you can see, most of these duties focus on maintaining CRM data quality. Any of the methods of data entry we discussed earlier can potentially result in bad data. Out of the methods we listed, the one that causes the most problems and poses the biggest challenges is user-generated data, which directly impacts your contact data quality. However, there is another factor that causes even more quality issues with both contact data and account data: time.
The Importance of CRM Data Quality
CRM data quality is a critical variable in ensuring a strong ROI for your investment in a CRM system. Standard processes in CRMs include lead management, dashboards, record customization, and Microsoft Outlook integrations. However, the functionality supporting your contact data quality, such as contact verification, data hygiene, field standardization, and CRM data enrichment is largely absent.
Judging by this lack of out-of-the-box support, you would think that data is expected to be miraculously keyed into CRMs perfectly without the possibility of decay. Unfortunately, that's far from reality.
How contact data quality decays over time
Let's assume that your contact database is 90% accurate. Most CRM databases aren't close to this level, but we'll use this example as a best-case scenario. It's also generally accepted that contacts age at a rate of 3% to 5% per month due to job changes, new titles, company name changes, office relocations, and companies going belly up.
Assuming the best case scenario of data decay (3%), your database that began at 90% accuracy has decayed to 62% accuracy (.9 * (1 – .03)12) after only one year, absent any data quality initiatives. After two years, that contact data has declined to 43% accuracy (.9 * (1 – .03)24). So, at best, more than half of your total records will be bad after only 24 months. Even if you run an annual CRM data refresh, your records will still average an 80% quality level over the year. Such accuracy should not be acceptable to your sales and marketing teams.
How poor contact data quality impacts Sales and Marketing results
Bad CRM data shows up in a series of tangible and expensive process failures.
How much time is wasted by sales reps leaving messages for contacts who are no longer at a firm? Whether voicemails or quick emails, this activity has zero ROI. Improving your data quality allows them to focus on actual prospects – folks they can sell to.
Poor data quality also impacts your marketing department's targeting. Weak firmographics, technographics, and contact data result in ineffective audience selection. How much money is wasted on direct mail programs for collateral that is immediately dumped in the trash?
How about your email programs? Many marketers simply rely on email bounces and unsubscribes to verify their emails, but moderate-to-high email bounce rates can cause your marketing campaigns to end up in SPAM folders. Likewise, poorly-targeted messaging will drive up your unsubscribe rates. ESPs may even choose not to deliver your messages or throttle email delivery.
Another gap occurs in lead scoring. Weak data results in inaccurate Lead Scores, generating poor prospect nurture decisions. If sales reps fail to act on marketing qualified leads, one reason is poor data quality.
It's Time to Improve Your CRM Data
By associating accounts, contacts, and leads with third-party verified reference files, marketing and sales processes operate more effectively. Additionally, Marketing and Sales Operations enjoy fuller and more accurate segmentation reports, prospect decisioning improves, and leads are routed to the proper sales rep.
If you haven't recently cleaned up your CRM or Marketing Automation Platform, you will find decreasing returns on your marketing campaigns and sales rep outbound calling. What's more, B2B data providers now offer automated batch and on-demand lead enrichment, making it more efficient and faster to validate and enrich your enterprise platform records. DealSignal offers dedicated HubSpot Lead Enrichment and Salesforce Lead Enrichment as well. To support your account-based marketing programs, you can even request human-verified contacts to replace departed executives or fill in gaps at your ABM accounts.
Hopefully, Marketing and Sales Operations are giving more thought to data quality. The phrase, "Garbage In, Garbage Out," comes from the early days of IT, but becomes ever more relevant as our applications and processes become more sophisticated.