Automatic CRM data enrichment, refresh, & reverification on schedule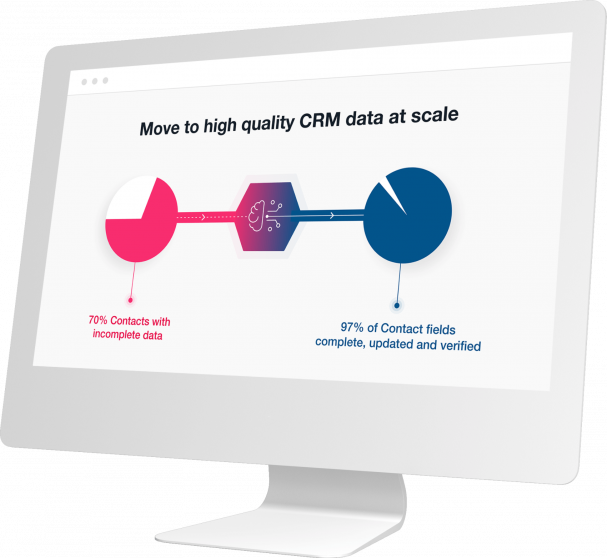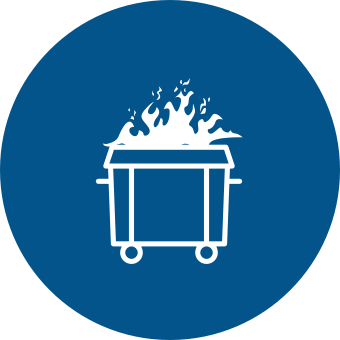 Conquer data decay
CRM dumpster fire? DealSignal can keep your data refreshed automatically.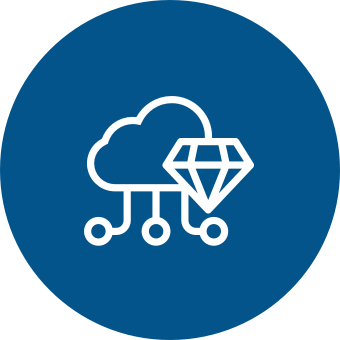 Improve data quality
Power your programs with fresh, accurate data to drive better results.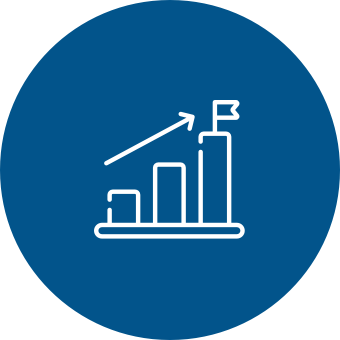 3-5x audience coverage
Achieve comprehensive, accurate info on your total audience.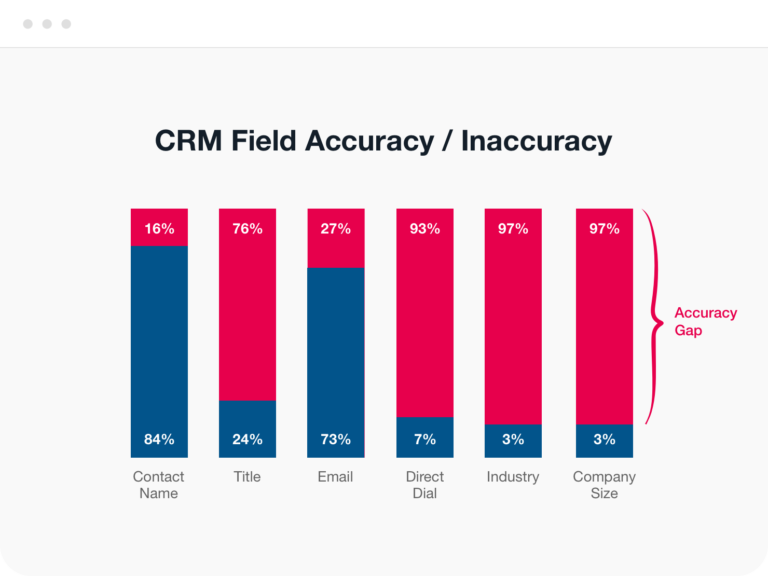 Incomplete, inaccurate data = poor performance
Bad data negatively impacts your automations and results. Bad data, is literally, a waste of time and money. See where you stand with a CRM data health check. Get a detailed report on how many of your contact and account fields are incomplete, inaccurate or outdated.
Maintain healthy data, on a schedule
DealSignal's seamless integration with Salesforce makes it easy to continuously refresh, enrich and reverify your CRM data on a regular schedule. Achieve complete, fresh, accurate data on your ABM accounts and target contacts.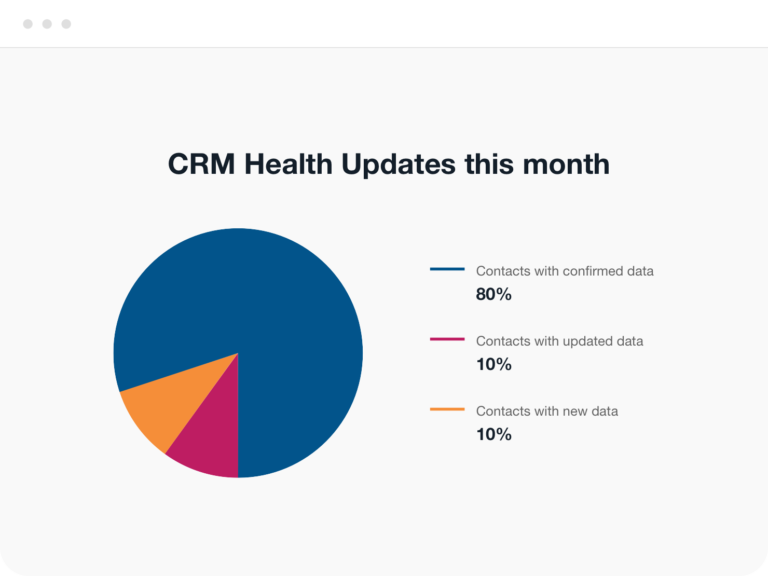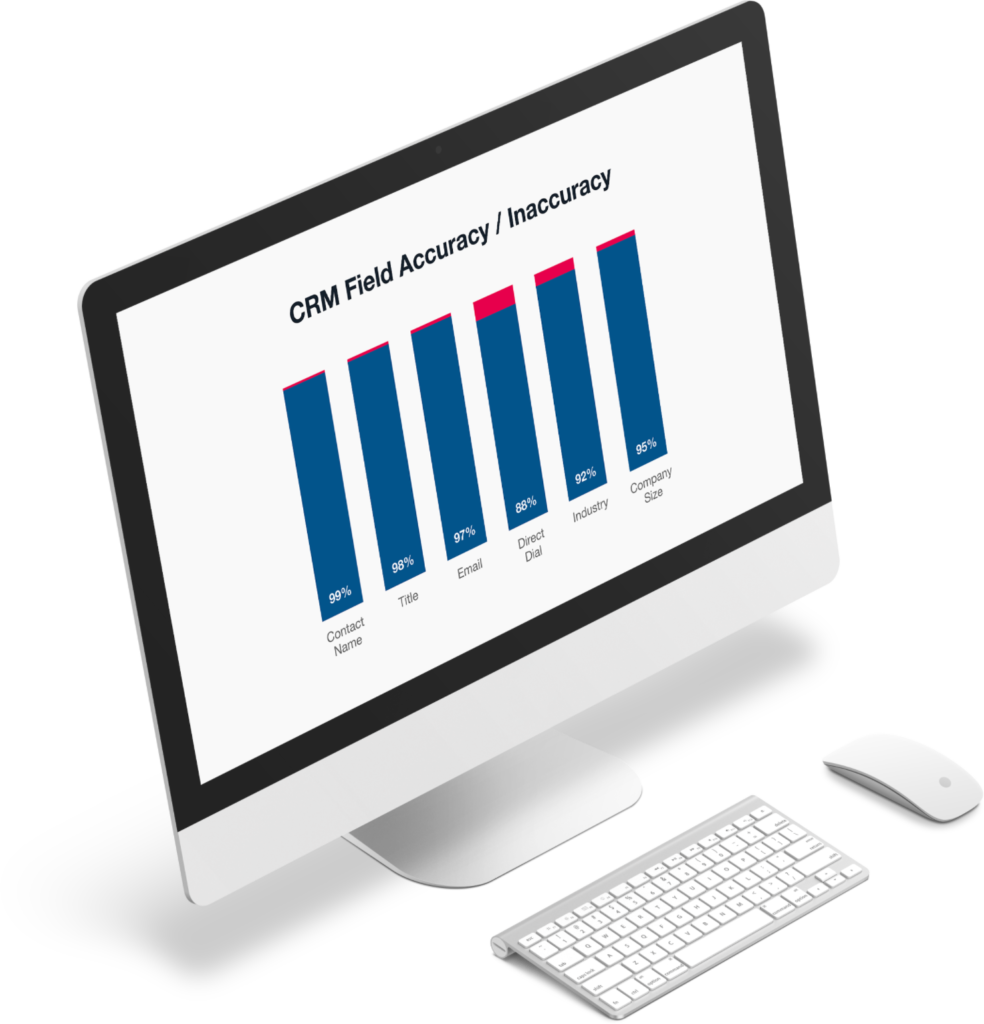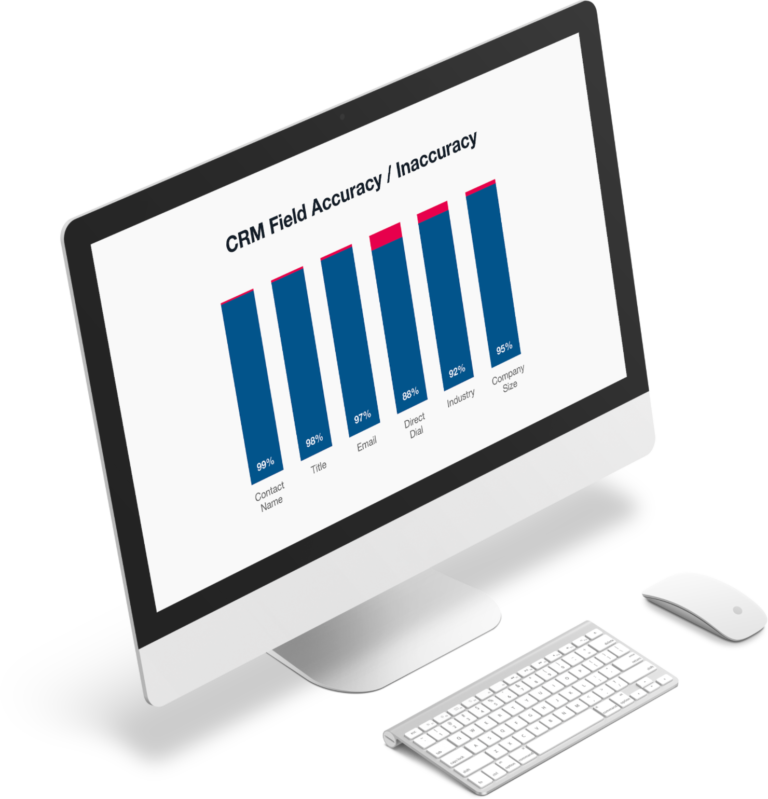 How can CRM Data Health help your team?
How does CRM Data Health work?
DealSignal makes it easy to automatically refresh your CRM data—and keep it fresh on a regular schedule.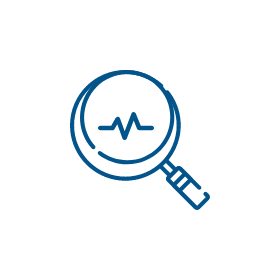 Start with a no-cost CRM data health audit
Get a baseline analysis of how spotty and outdated your CRM data is. On average, up to 50% is typically inaccurate and incomplete!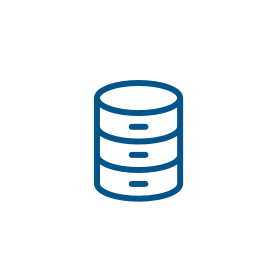 Import your CRM data
Choose your preferred refresh and enrichment options and launch your initial refresh. You can pick just a segment, such as ABM accounts, or all your accounts, contacts and leads.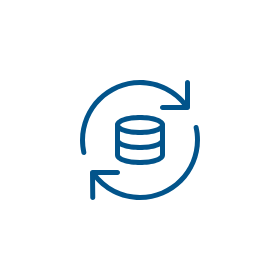 DealSignal dynamically refreshes, enriches & reverifies all your data
Detailed firmographics, direct-dial and corporate phones, verified email, job title, social URLs, even persona fit and buyer intent...100+ available fields automatically refreshed and enriched.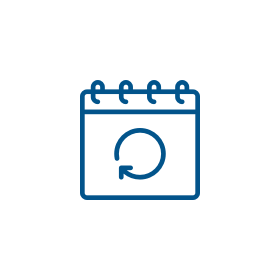 Your CRM data is refreshed automatically
Choose a monthly, quarterly or custom schedule for DealSignal to refresh, enrich, and reverify your data. Bi-directional CRM integration makes it easy.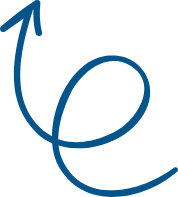 Rest easy knowing your CRM data is fresh, complete & accurate!
The DealSignal platform takes a dynamic, AI-driven, on-demand approach to data enrichment and verification to deliver unparalleled match rates and 97%+ accuracy with a 100% data guarantee.
Without any CRM data quality initiatives, after one year, your 90% accurate contacts will have decayed to 71% accuracy. After two years, your contacts will have declined to 55% accuracy. That is four out of every nine records being bad after only 24 months!
Michael R. Levy
Principal
GZ Consulting
With DealSignal, our Sales Operations team maintains control to ensure CRM data hygiene, while providing Sales the fresh, clean, complete data they need to drive pipeline and greatly reduce manual research.
David Lee
Sales Operations Director
MediaRadar
"We were surprised to find that our current CRM and marketing automation system only covered about 5-10% of our total addressable market. DealSignal not only quickly measured our TAM, but delivered us complete, accurate contacts for our entire market, within days."
Kieron Brown
Marketing Manager
Working with DealSignal has helped us boost our 'data usability' or basically sales-qualified leads from 5% of total leads generated to 95%—a 19x improvement.
Sarah Strid
Sr. Manager of Demand Generation
See how DealSignal fuels sales & marketing performance