In A Nutshell: DealSignal vs. LeadIQ
DealSignal and LeadIQ are both popular Pipeline Generators. However, DealSignal stands out as the preferred choice for sales and marketing professionals seeking extensive data coverage, unmatched accuracy, precise targeting filters, and strong integration capabilities. DealSignal offers a comprehensive, high-quality, flexible, and cost-effective data solution.
While LeadIQ has gained attention for its EU B2B data, it's crucial to look at the bigger picture. DealSignal's global network provides access to over 25 million companies with 1 billion contacts. Spanning across North America, Europe, Asia Pacific, and Latin America. This broad reach covers all industries and market segments, offering a wide pool of leads.
LeadIQ's limiting data coverage focuses on high-tech industries and larger enterprises. DealSignal offers comprehensive coverage for a diverse range of target companies. Covering the EU and beyond, DealSignal emerges as the superior option.
DealSignal commits itself to data quality. Boasting an accuracy rate of over 97%-99% for contacts, emails, and direct and mobile phones. Its rigorous verification process ensures reliable and up-to-date information, including human-verified phone numbers.
LeadIQ customers have criticized the inconsistent data quality, especially phone data. LeadIQ may buy unreliable phone data from third parties without proper verification. This raises questions about data reliability and potential privacy law issues. Which can have a negative impact on your sales team's productivity.
This article will delve into the unique features of both pipeline generators. Helping you make an informed decision for your sales and marketing efforts. Keep reading to discover why selecting DealSignal vs LeadIQ is advantageous for your business needs.
B2B Pipeline Generators: Why They Matter
In the wake of the COVID-19 pandemic, the business landscape has undergone a seismic shift. The way companies engage with their markets has changed. As remote work and digital interactions became the norm, businesses needed to adapt swiftly. Businesses placed greater emphasis on virtual avenues for outreach and lead generation. B2B Data platforms, like Zoominfo, DealSignal, and LeadIQ are essential for finding new leads, converting prospects, and building pipelines. These platforms can improve the productivity and results of Sales and marketing teams.
According to Forbes Insights, companies with mature lead generation processes generate 133% more revenue than average. However, 61% of marketers say that generating traffic and leads is their biggest challenge. Most will agree that lead generation and prospecting is a "numbers game" and a "grind." Sales & marketing teams need to work with the best numbers to make the grind as productive as possible.
For instance, as more people work from home, access to precise mobile phone numbers has become crucial for sales teams. Crucial to reach target buyers and schedule meetings effectively. If a sales team has 25-50% more accurate mobile numbers, they may book 1.25-1.5 times more meetings. This increase in meetings can lead to a boost in pipeline and revenue.
In the world of lead generation tools and B2B data platforms, it's essential to compare DealSignal vs LeadIQ. Both are significant players in sales intelligence. This article explores the differences between these platforms to help you make an informed choice that aligns with your sales goals.
We will delve into the foundational elements of Data Coverage, Data Accuracy, Targeting Precision, Cost-Effectiveness, and overall value proposition. Let us show you why DealSignal is the best choice for most companies across all market segments.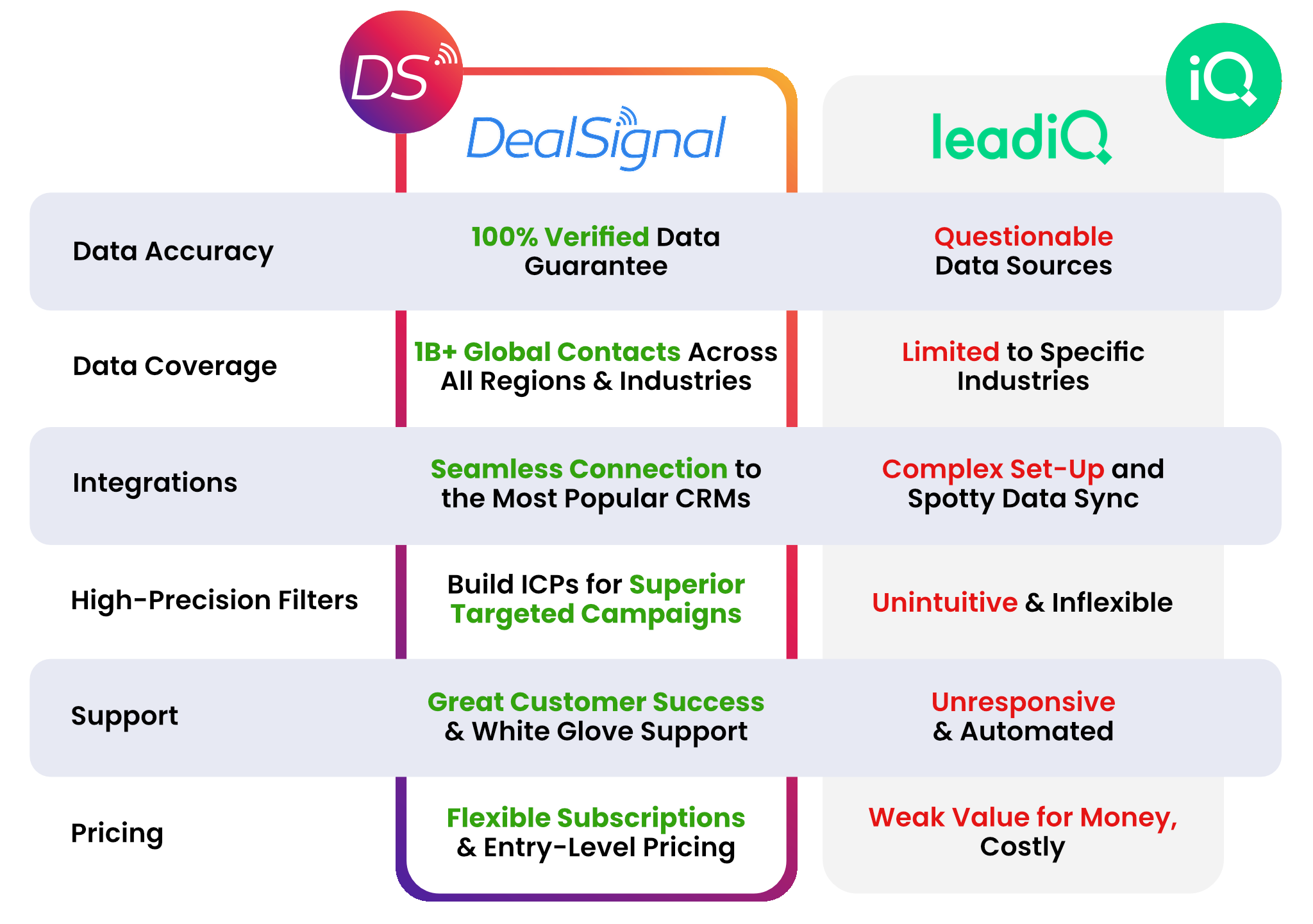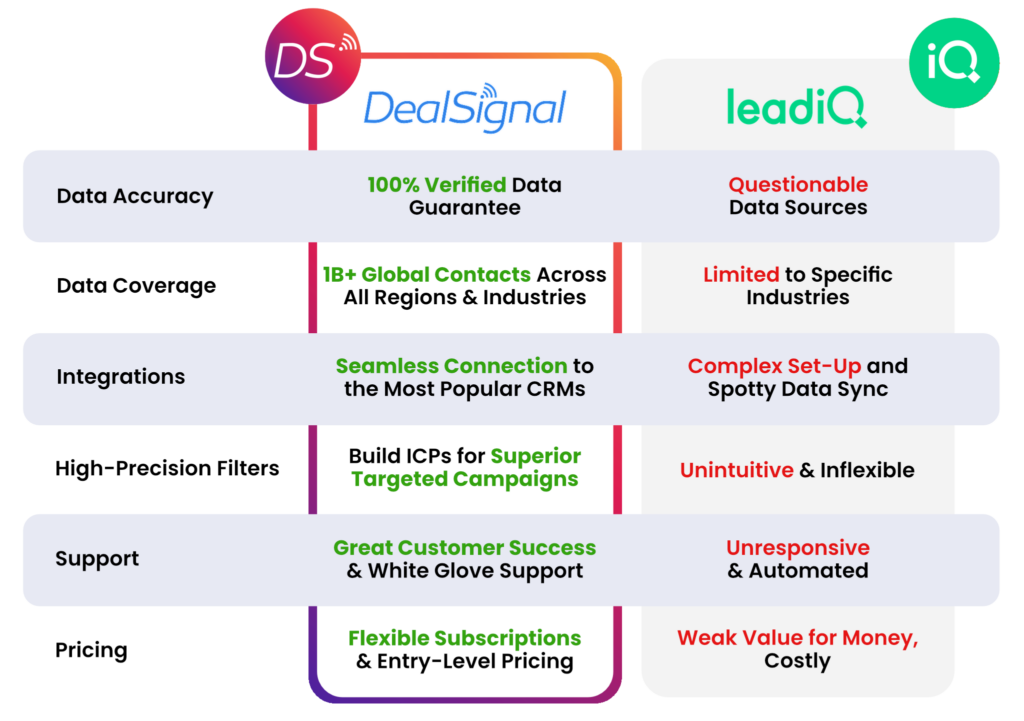 DealSignal Overview
During the global pandemic, the way people work experienced a dramatic shifted. This has led to what some call "the great migration and resignation". Around 5% to 10% of the global workforce are changing jobs every month. This rapid job market change has revealed issues with traditional B2B databases that get updated monthly, or even once a year. There's now a pressing need for real-time updates to B2B data.
Traditional B2B databases are largely static. Created once and updated periodically. Some parts getting refreshed every three months, but most segments annually or even less frequently. Static databases struggle to keep up with today's fast-paced business environment where change is constant. Updating and verifying all company and contact data points on a regular basis is crucial. Only that way can sales and marketing teams stay informed and timely in their actions.
Unlike its competitors, DealSignal doesn't just store data; it keeps it current. DealSignal updates company and contact information dynamically. Precisely when sales and marketing users need it. This ensures verified B2B data, and curated and refreshed lists within 2 to 24 hours before a marketing campaign or sales outreach begins. This guarantees 100% verified data points, leading to optimized productivity, performance, and results. DealSignal empowers users with real-time services, resulting in 25% to 50% better accuracy and 1.25x to 3x better results.
Besides data accuracy, DealSignal's data coverage is extensive. While data providers like LeadIQ focus on North America and Europe, DealSignal offers access to over 1 billion global records. Covering North America, Europe, Asia Pacific, Latin America, and even Africa.
LeadIQ selects records they believe are popular enough to maintain in their database. Leading them to concentrate on senior executives and directors in US-based high-tech companies. In contrast, DealSignal empowers users to upload lists and define advanced filtering criteria. This process leads to fresh, accurate B2B data with the most comprehensive results.
Based on user requests to verify their B2B data lists, DealSignal dynamically fetches, matches, and verifies records from its own database of over 150 million records, several third-party sources with 1 billion records, and scours the web and social networking sites. Resulting in the the most comprehensive and accurate list of companies and business contacts.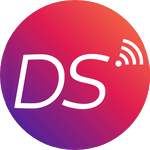 DealSignal is a steadfast partner, ensuring that your pursuit of success is backed by data that's not just reliable, but revelatory.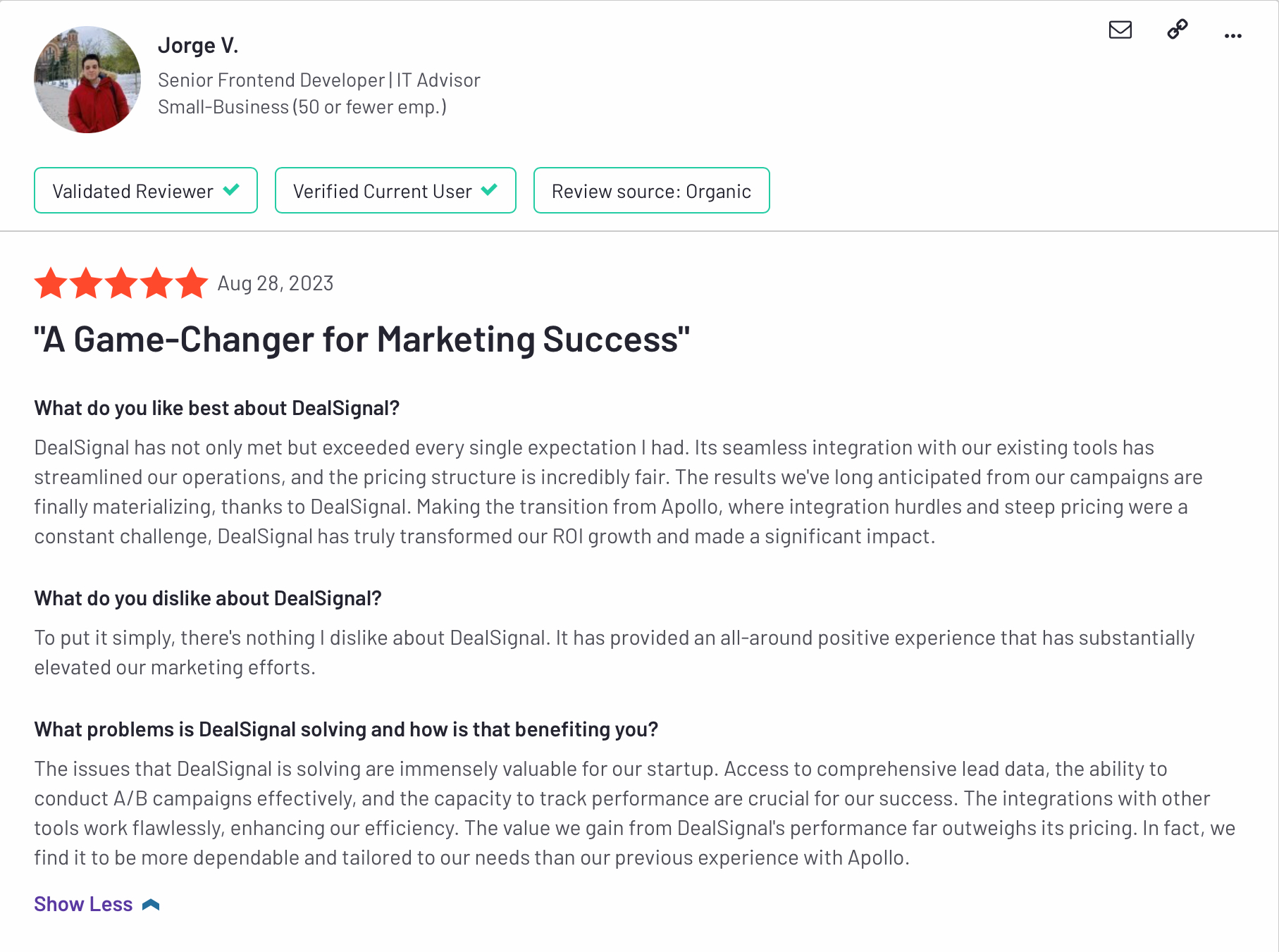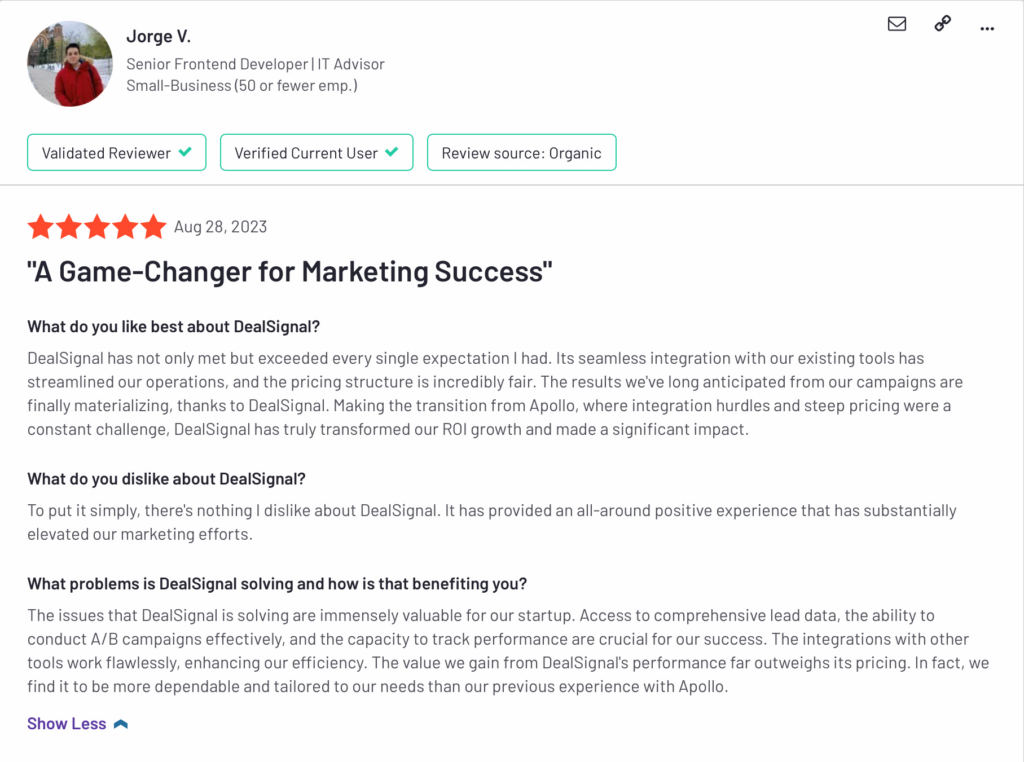 LeadIQ Overview
In the world of sales intelligence solutions, LeadIQ is in the mix. The company aims to simplify lead generation for sales teams. Sales teams looking for better ways to boost their prospecting should take a closer look at LeadIQ's shortcomings
Online reviewers have raised concerns about the accuracy of the data. LeadIQ customers have questioned the efficiency of LeadIQ's verification process. The platform may cause high email bounce rates and generally incomplete data points.
One of the main issues with LeadIQ is its lack of complete phone number information. Online reviewers found it impossible to connect with prospects effectively due to incomplete customer profiles. Even more concerning: LeadIQ customers reportedly invested credits for email addresses and phone numbers, only to receive non-functional data or contact details that redirects them to the wrong people altogether.
This highlights concerns about how LeadIQ verifies its data. Which stands in contrast to DealSignal's verification process that guarantees the end-user receives the ideal buyer contact with every prompt.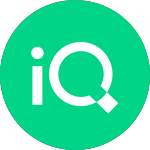 As we dig into data coverage, accuracy, and overall value, we'll give you an overview of LeadIQ's limitations. We will compare it to DealSignal's comprehensive approach.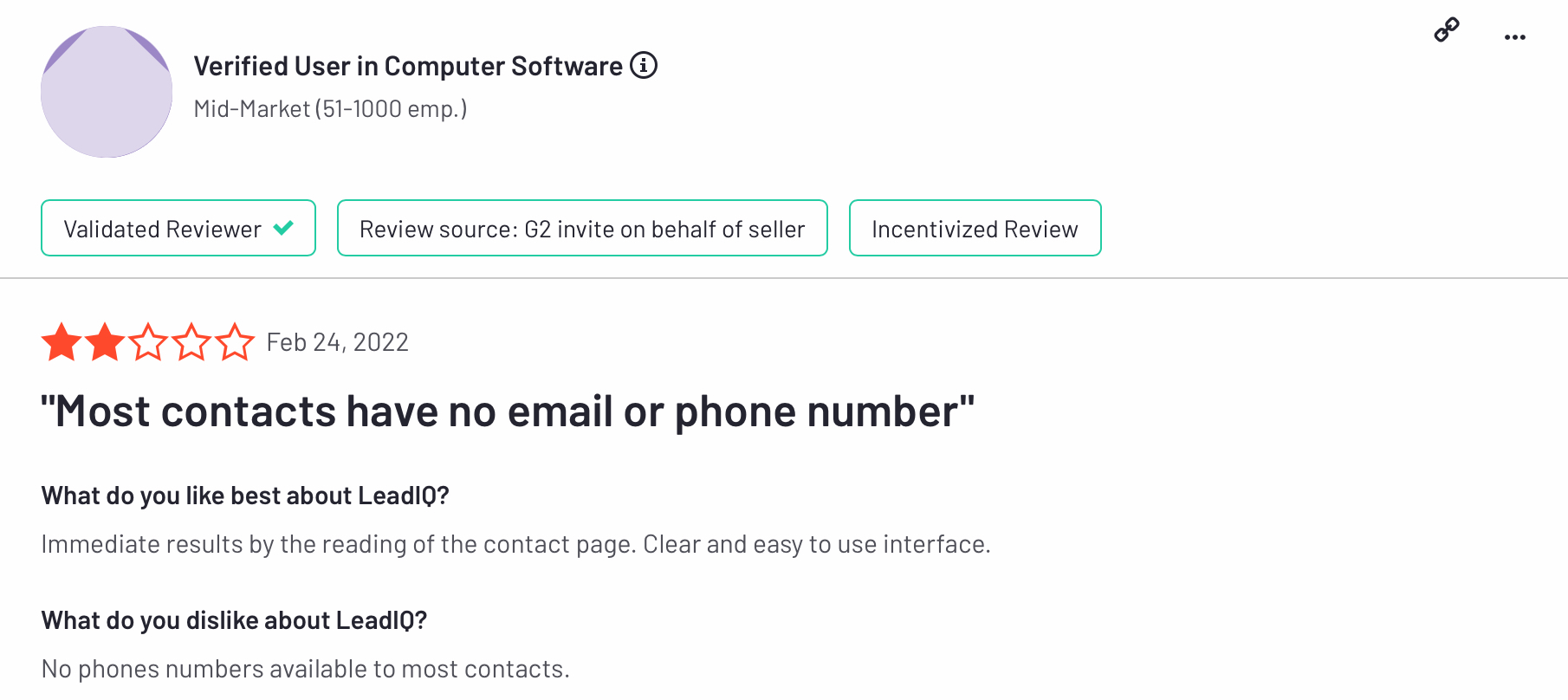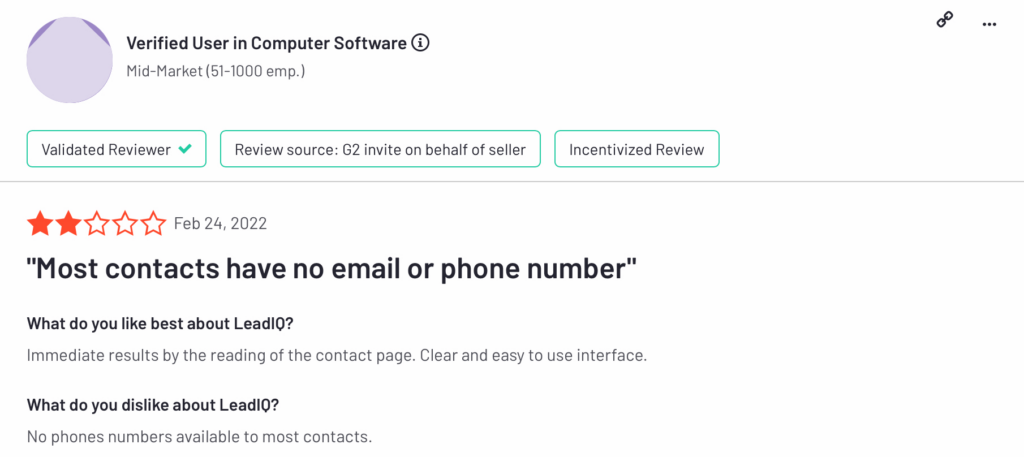 Data Coverage Comparison
DealSignal: Data Coverage
DealSignal offers access to a vast database of over 20 million global companies across several industries. The platform offers a staggering 1 billion contacts, each enhanced with 100 specific data points. DealSignal provides tailored insights designed to fuel sales success.
Central to DealSignal's effectiveness is its unique adaptability. The Dynamic Data Enrichment Process customizes data according to your Ideal Customer Profiles (ICPs) and buyer personas. DealSignal updates its database with the latest companies and contacts across all industries based on real-time user input.
Which leads us to DealSignal's strong commitment to real-time data updates. DealSignal updates company and contact details right when sales and marketing professionals require refreshed and validated information. All within a window of 2 to 24 hours before the marketer launches their campaign. Or before the sales development representative initiates their outreach efforts. This ensures every data element is 100% validated. Enhancing sales efficiency, effectiveness, and outcomes.
DealSignal's impact spans continents, connecting North America, Europe, Asia Pacific, and Latin America. Covering a wide range of markets, from small-to-medium enterprises to high-tech industry leaders. DealSignal's global data coverage transcends geographic borders.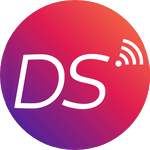 With its extensive and continuously enriched data coverage, DealSignal's B2B Pipeline Generator grants businesses an unrivaled advantage. Businesses can rely on DealSignal to provide accurate and current information, enabling them to make informed decisions and establish meaningful global connections with confidence. This translates to more leads, higher conversion rates, and a more productive prospecting process that drives revenue growth and opens up opportunities to connect, grow, and accelerate within the target market.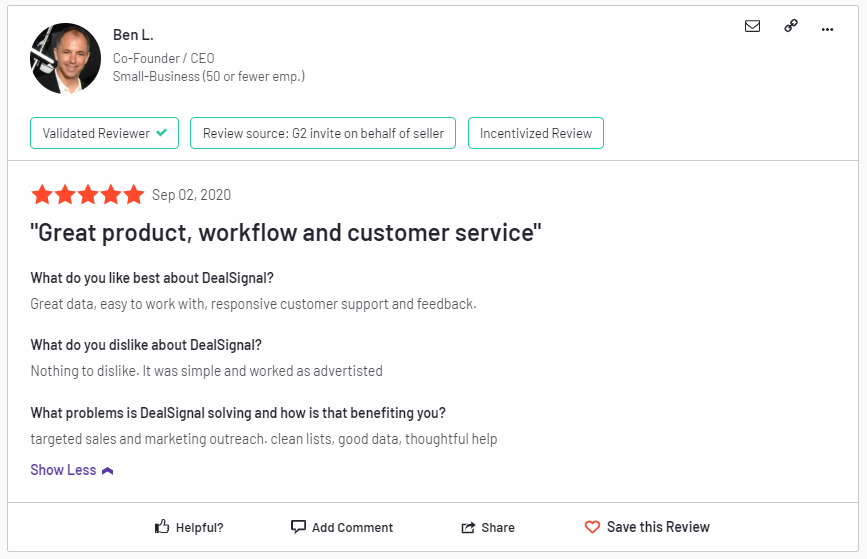 LeadIQ: Data Coverage
LeadIQ has gained attention from companies expanding internationally due to its collection of EU B2B contact data. However, there are specific limitations that need careful consideration. LeadIQ mainly focuses on high-tech firms and tends to have data points concentrated at the executive level. This limitation is a concern for businesses seeking comprehensive data that covers various parts of organizations.
In addition, LeadIQ has faced criticism for incomplete data points, especially the absence of crucial phone numbers. This significantly impacts outreach efforts and limits communication options. These limitations highlight LeadIQ's incomplete data coverage, potentially affecting the success of broad outreach strategies. On the other hand, DealSignal shines with its global approach. Covering 20 million companies across multiple business sectors, DealSignal offers a superior global reach.
Moreover, DealSignal provides 100 unique data points per B2B contact, giving businesses a deep understanding of potential leads. The Dynamic Data Enrichment Process tailors data to fit individual Ideal Customer Profiles (ICPs) and buyer personas, enhancing DealSignal's coverage. This adaptable approach ensures access to carefully curated information that precisely matches specific needs.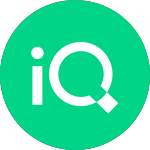 While LeadIQ might fit specific niches, its data limitations underscore the broader and more flexible approach of DealSignal. For Sales and Marketing teams seeking a comprehensive data coverage solution, DealSignal is ready to provide an all-encompassing solution.
Data Accuracy Comparison
DealSignal: Data Accuracy
DealSignal guarantees 100% verified contact data with every prompt. With the help of sophisticated AI-powered data enrichment tools, DealSignal's team of B2B analysts carefully examines each data point and enhances contact data with up-to-date information, adding crucial details like location, industry, revenue size, title, and seniority, all in real-time.
However, DealSignal goes beyond the basics to ensure the most accurate B2B data: Its advanced filtering system looks into details that go deeper than seniority or job roles. For example, when targeting marketing experts, the system checks for specific skills like demand generation and email marketing, going beyond job titles. This accuracy helps DealSignal's users create targeted outreach plans, optimizing their efforts and resources.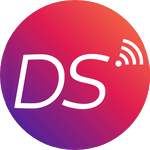 With real-time data enrichment and advanced filtering capabilities, businesses using DealSignal can unlock possibilities and elevate their sales and marketing efforts to achieve greater success.
LeadIQ: Data Accuracy
Some users have raised concerns about LeadIQ's commitment to data accuracy. One specific area that's drawing attention is its mobile phone data, which some online users have criticized for having inactive or incorrect numbers. This drawback, directly affecting direct communication, brings the reliability of LeadIQ's B2B data into question – especially for important outreach activities.
According to online reviews, LeadIQ users have been spending credits to obtain specific phone numbers and emails, only to discover that the information provided by LeadIQ is either inactive or incorrect. In a particularly troubling instance, the phone numbers given by LeadIQ led a customer to contact the family members of potential prospects, making the sources LeadIQ relies of for their phone numbers questionable at best.
On the other hand, DealSignal is committed to data accuracy, including its mobile phone data. With a robust collection of corporate mobile numbers across departments, DealSignal enhances the possibilities for direct communication, a crucial part of meaningful outreach. Each phone number is meticulously verified for accuracy, showing a dedication to safeguarding customer and prospect privacy. The platform's data verification process is designed to provide reliable and actionable insights, protecting Sales teams from the risks of unproductive data and wasted resources.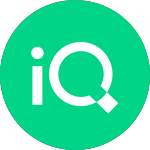 For businesses in search of reliable and precise B2B lead enrichment tools, exploring alternatives to LeadIQ could be a valuable consideration. Options like DealSignal offer a higher level of accuracy in the essential data points needed for direct communication.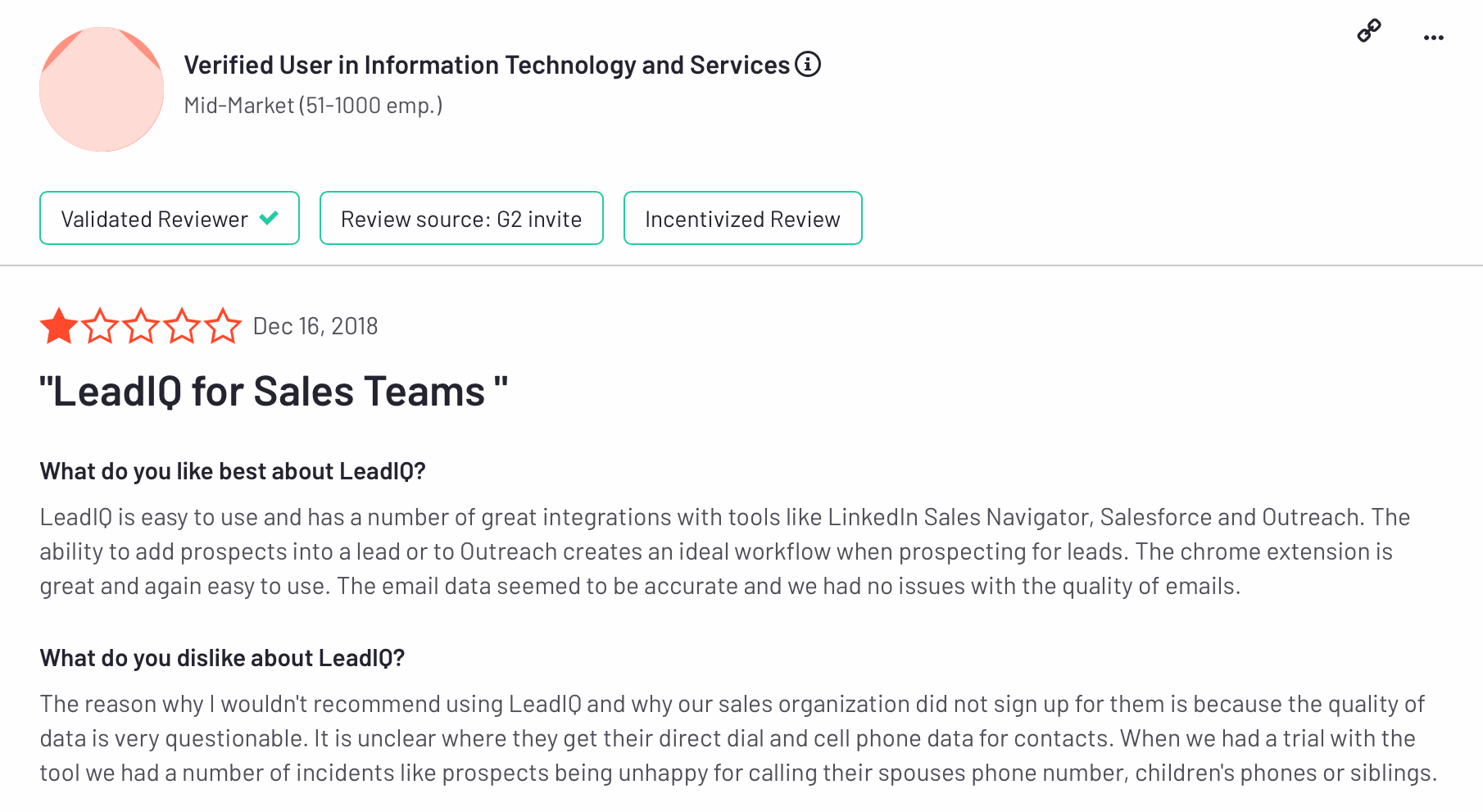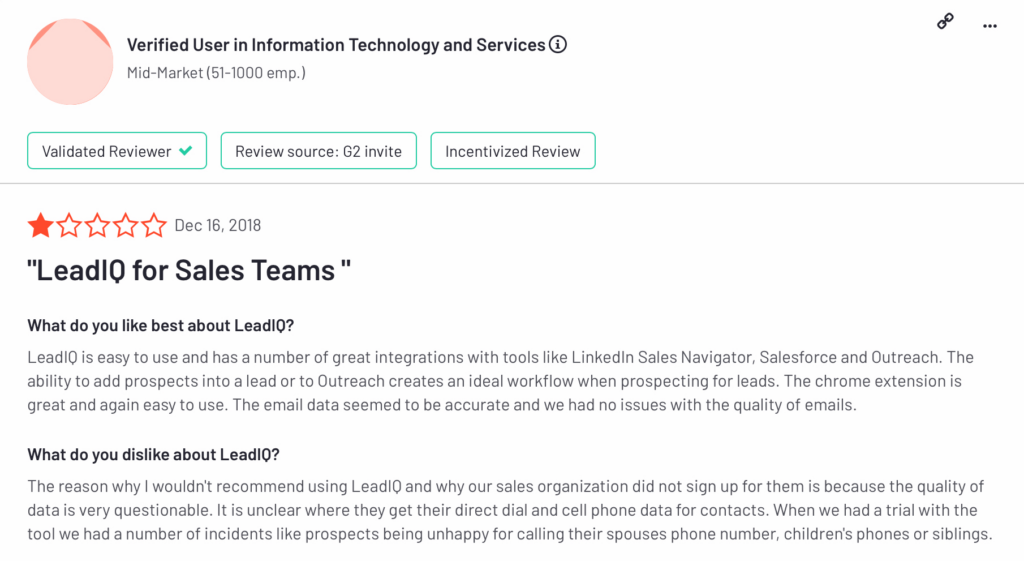 Integrations Comparison
DealSignal Integrations:
DealSignal offers integrations with popular Customer Relationship Management (CRM) systems, Marketing Automation Platforms (MAP), and Sales Engagement tools. These integrations allow for seamless data transfer and synchronization between DealSignal's enriched and verified B2B data and your existing sales and marketing tools. Some of the integrations that DealSignal supports include:
Salesforce
Marketo
HubSpot
Outreach
Eloqua
Pardot
SalesLoft
These integrations empower businesses to enhance their lead generation and data enrichment efforts within the systems they already use, streamlining workflows and ensuring data accuracy across platforms.
LeadIQ Integrations:
LeadIQ also provides integrations with popular CRMs and Sales Engagement platforms. While LeadIQ's integration options may not be as extensive as DealSignal's, they still allow for data synchronization and enrichment within your existing sales tech stack. Some of the platforms LeadIQ integrates with include:
Salesforce
HubSpot
Outreach
SalesLoft
Comparatively, LeadIQ's integration options are focused on key platforms commonly used by sales teams.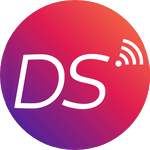 DealSignal's integrations are more diverse and encompass a broader range of platforms, providing users with greater flexibility in incorporating enriched B2B data into their existing workflows.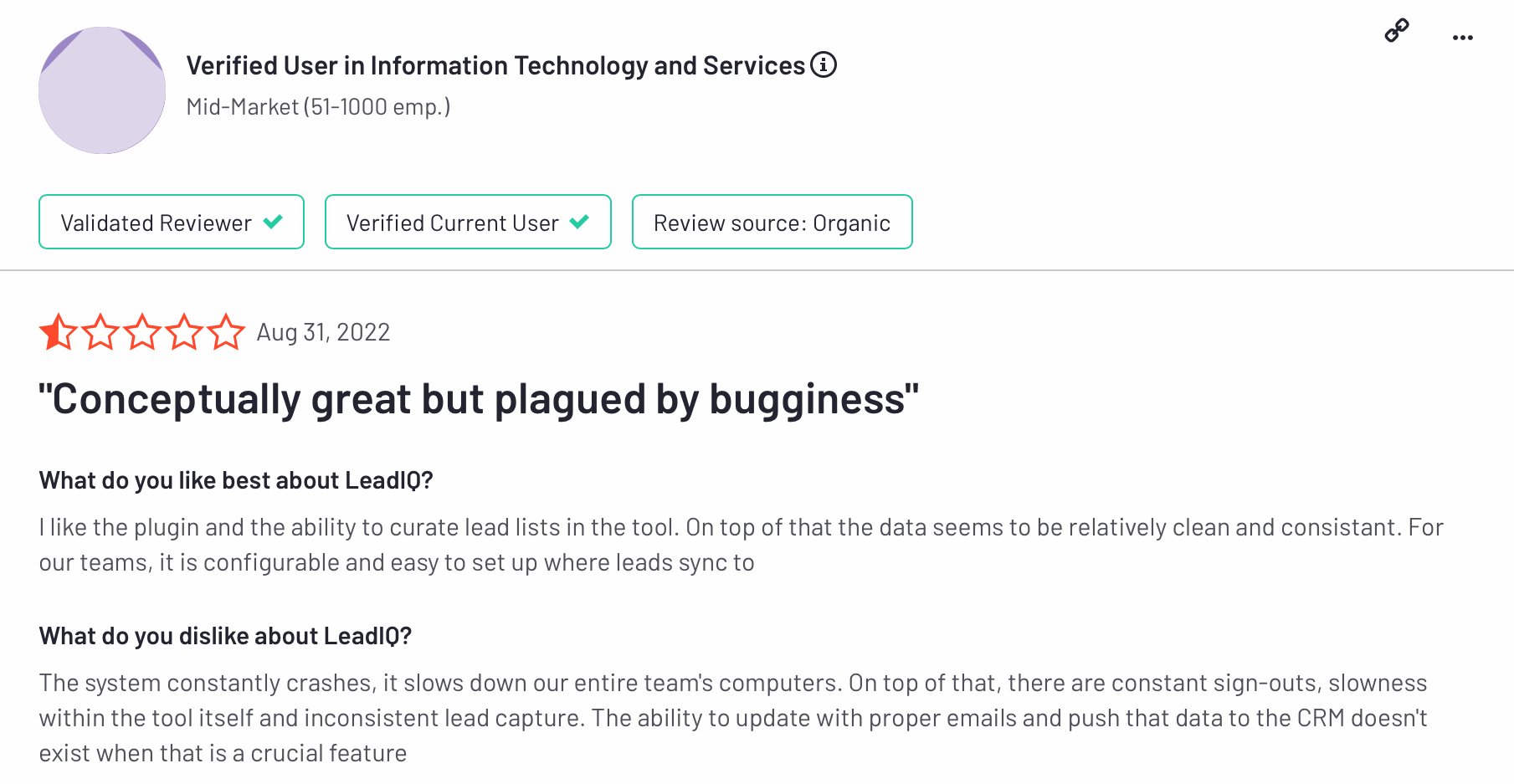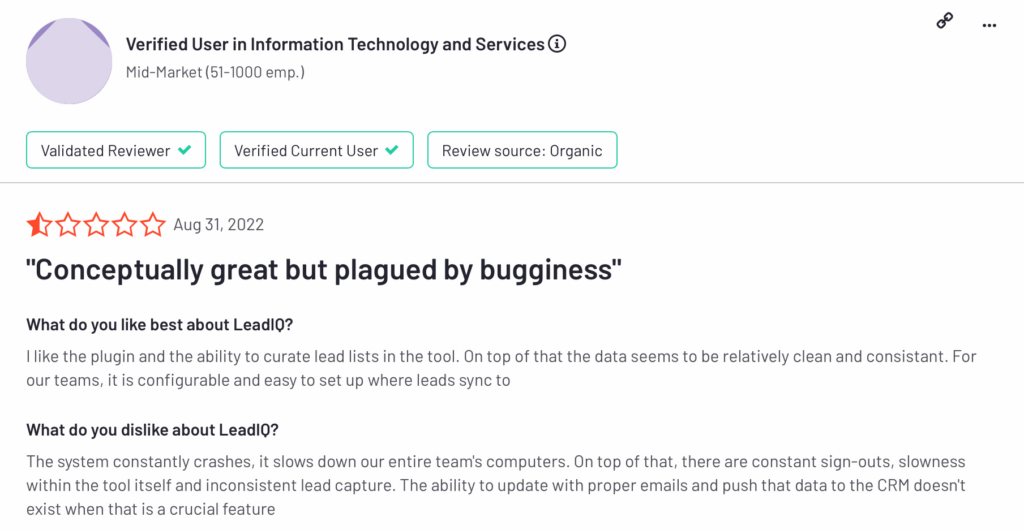 Pricing Strategies: DealSignal vs LeadIQ
DealSignal Pricing Approach:
DealSignal offers clear and flexible pricing that's personalized to the needs of Sales and Marketing professionals. Their subscription plans cater to various industries, markets, and locations. The pricing structure ensures users pay for the data they actually need, avoiding hidden fees or restrictions.
An important advantage of DealSignal over LeadIQ is its strong commitment to data accuracy. Focusing on providing reliable and current information, DealSignal ensures users get the best return on their investment. The pricing reflects the quality and depth of the data, allowing businesses to make informed choices while maintaining accuracy.
LeadIQ Pricing Strategy:
LeadIQ also provides pricing plans suitable for different business sizes and needs. However, feedback from users has raised concerns about the value they get for their investment. While LeadIQ's pricing gives access to data, there have been worries about the accuracy and completeness of the information. This is especially true given the limitations in mobile phone data and reported challenges with data verification.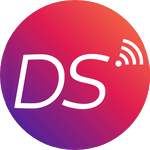 DealSignal's transparent, customizable, and accuracy-focused approach positions it as the preferred option for Sales teams aiming to optimize their data investments and gain tangible value from their data-driven efforts.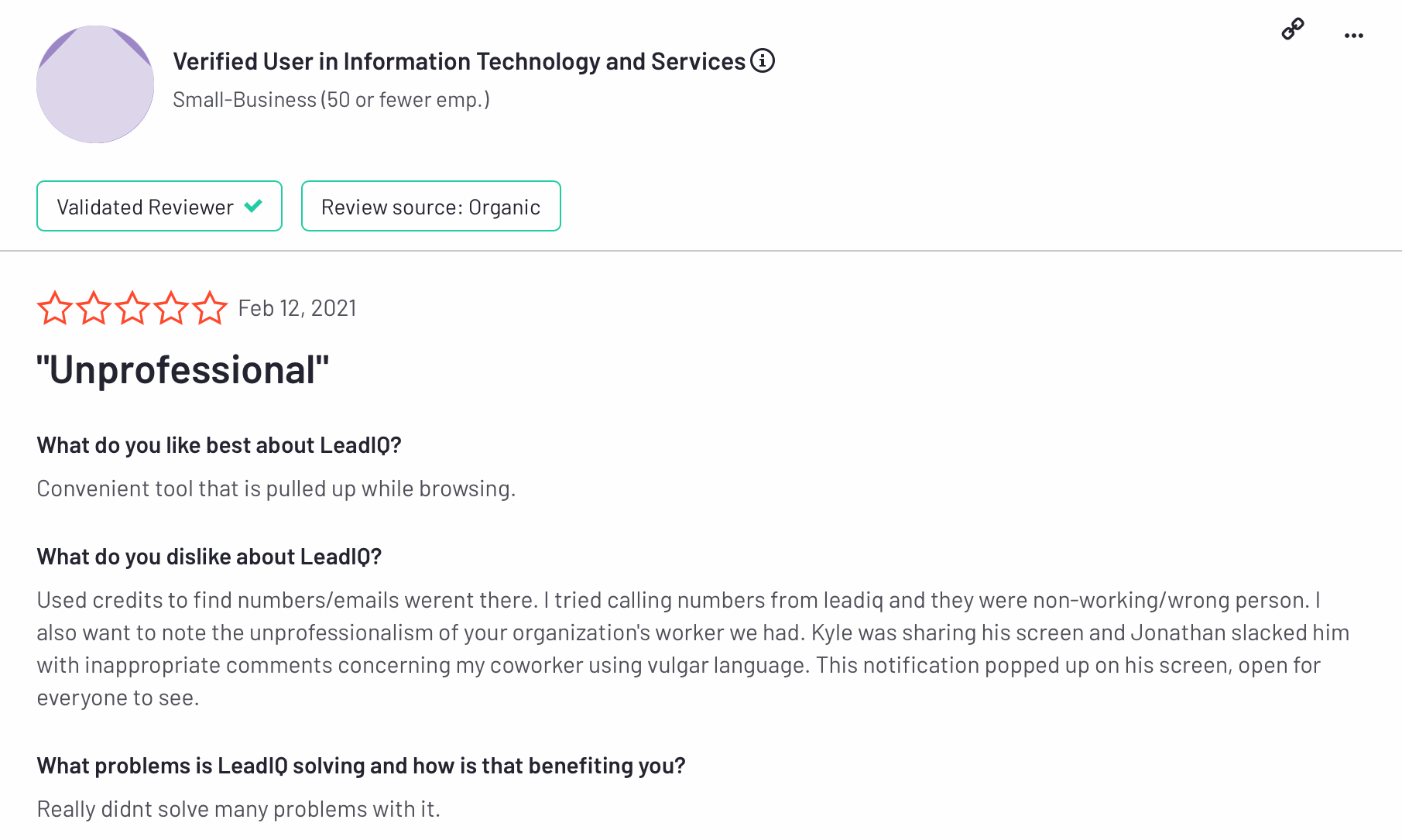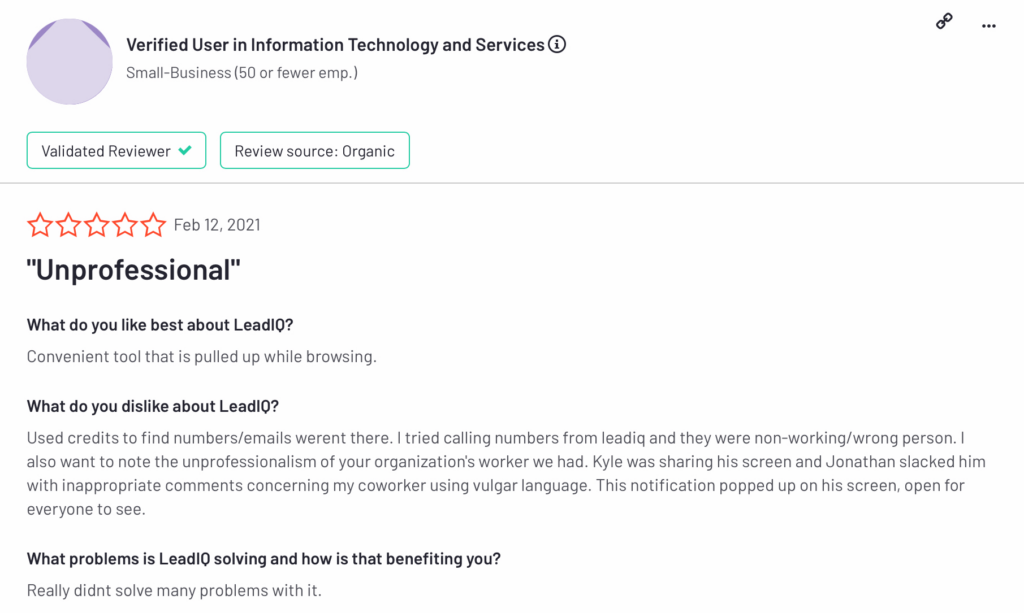 Choosing Your Sales Intelligence Ally
In the world of sales intelligence, precision is crucial, and mistakes are costly. For sales professionals, choosing the right data provider can significantly impact your success. DealSignal stands out as a comprehensive solution that goes beyond basic information, providing real-time, trustworthy insights that fuel your pipeline.
While LeadIQ has its merits, its data coverage and accuracy might not match the demands of a thorough sales strategy. The sales environment requires strong, accurate, and regularly updated data to power your outreach, and in this aspect, DealSignal excels.
DealSignal's focus on accurate and current contacts, along with advanced filters and a commitment to verifying data within 24 hours, transforms it into more than just a sales tool; DealSignal becomes a valuable sales partner.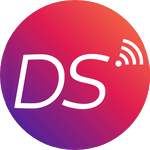 Enhance your sales journey with DealSignal and experience firsthand how high-quality data transforms your approach, driving you toward exceptional success. Book a Free Demo of DealSignal today!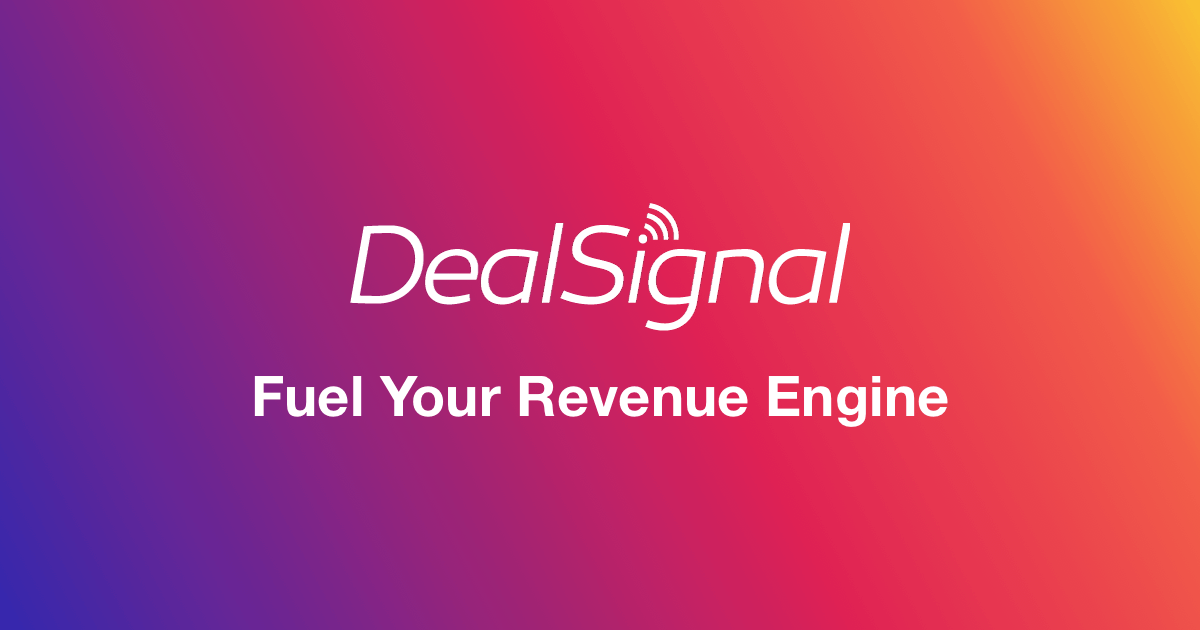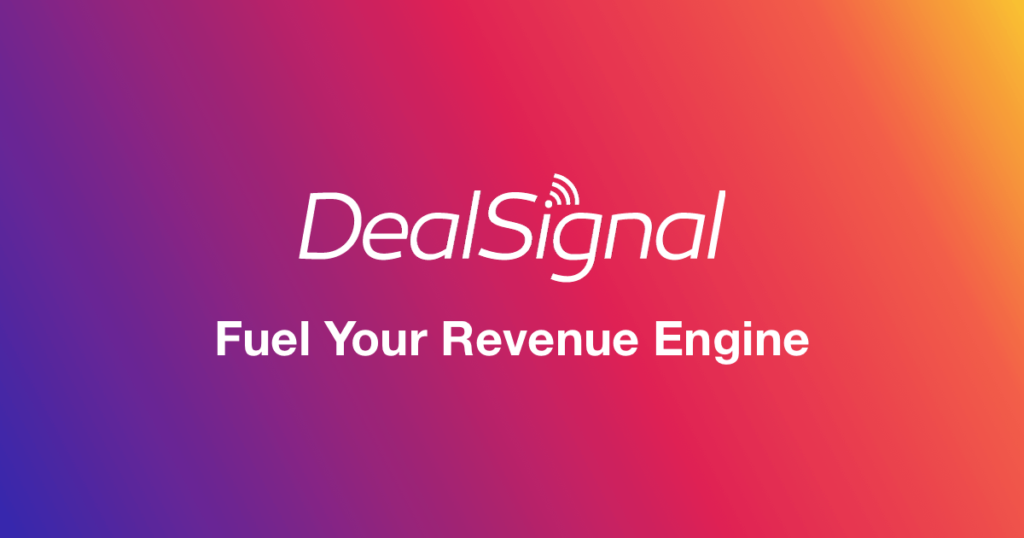 Fuel Your Revenue Engine
Dynamic, On-Demand B2B. Transparent Pricing. Market-Leading Customer Support
DealSignal Has Got You Covered.
Learn more about DealSignal vs LeadIQ and other Pipeline Generators: