Good data improves productivity
Budgets are tight and resources are scarce. There's little wiggle room for wasting time on tactics and prospects that aren't likely to produce revenue. Good data ensures that you use your time wisely.
Spend less time researching, acquiring, operationalizing, and cleansing data
Before starting any campaign or targeted marketing effort, you typically start with the data you already have in your CRM. In today's volatile environment, you may see more churn than usual, even in your most active lists. If you're reaching out to people that you haven't contacted in a while, how can you be sure that their information is still valid? Quickly refreshing your CRM before you begin ensures the data is accurate, appropriately targeted, and free of duplicates.
Taking this step is worth the effort because high-quality data enables you to reach your prospects with the right messaging. It can be tempting to avoid this process due to how time-consuming it can be. You may not have the resources for manual data cleanup, and you may not have the time to delay your campaign. A reliable B2B data provider can save you time and resources by providing accurate, verified data that easily maps to your CRM.
Respond to inbound leads faster without manual research
When an inbound lead comes in, time is of the essence. Ideally, you have processes in place to follow up immediately, with the right messaging to engage the prospect, book a meeting, and convert them into your pipeline.
Without high-quality data, sales typically will spend a portion of their time on LinkedIn, Crunchbase, and other sources looking for information to help personalize their outreach. For a company with 5,000 leads per year, that can add up to more than 1,000 hours spent just on follow-up research every year (assuming it takes 15 minutes to research each lead). Using a high-quality data tool to automatically enrich your inbound leads means that your salespeople won't need to perform that manual research and can follow up on inbound leads more quickly.
Expand your audience and move into new markets faster
When you launch a new product or expand your target audience, your current data vendor may not have the coverage of the new personas or markets you want to target. And if they do, you may not be able to trust their data at scale. Instead, work with a data provider that can cover any persona, in any geography, in any niche market and deliver targeted decision-maker lists. Data vendors with these capabilities can fetch accurate data within hours, with each field verified after you made your request. Instead of spending days or weeks researching, acquiring, and cleaning up data every time you engage a new audience, you only need the time it will take to define your criteria. A trustworthy data vendor will take care of the rest.
In terms of productivity, on an annual basis, a company can save 1,000+ hours on data research, avoid weeks or months of reworking data or switching data vendors, reduce delays and headaches related to integrating and operationalizing the data, and put data cleansing and maintenance on autopilot. All those savings can potentially result in savings equal to two or more full-time employees in marketing and sales operations.
Why high-quality data improves performance
Right now, the spotlight is on sales and marketing leaders to deliver leads and revenue. Organizational leaders and budget owners are expecting to see positive metrics at the end of the quarter and the year, despite the precariousness of the economy. Good data helps you rise to the occasion.
Boost inbound lead conversions
One of the most important things marketers do is set up processes to make sure inbound lead follow-up is quick, whether it be automated or through sales. To craft the right message, you need to empower your sales team with the information that will resonate with your leads. That may be based on the lead's title, the company and its mission, recent accomplishments, or top challenges they face.
Inbound lead enrichment with great B2B data provides insights that sales can use to quickly and effectively personalize lead follow-up. Understanding the prospect's role, tailoring your solution to their particular need, and suggesting relevant next steps have proven to be effective.
For example, personalized calls to action convert 202% better than generic CTAs. And that's on top of the time saved when personalization is automated through high-quality lead enrichment. Faster inbound lead follow-up pays off: a study by Lead Connect found that 78% of customers buy from the company that responds to their inquiry first. But many companies struggle to respond in a timely fashion, as you can see in this chart from a popular study from Harvard Business Review: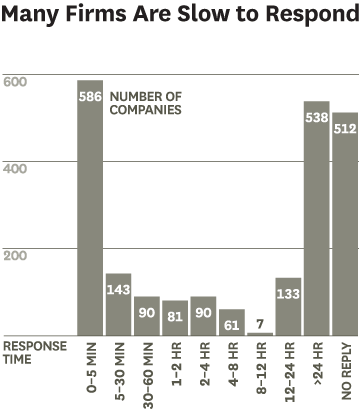 The real-world benefits of inbound lead enrichment
Our customers have reported significant benefits from enriching their inbound leads and delivering a fast, personalized response.
Twilio's SDRs followed up with clients by either writing something generic or spending 15 minutes to write personalized follow-ups for each lead. Their results were inconsistent. By revamping their templates and including enriched data, they saw a 500% increase in response time, saving 12 minutes per lead. Added up over time, they were able to hire an SDR with the cumulative cost savings.
Book more meetings with your ideal prospects
Booking a meeting with a prospect is always a good feeling, but that enthusiasm quickly dissipates when the prospect isn't the right target. Here's a scenario where data prevented this time-wasting, morale-sucking mistake:
A DealSignal customer who sells a contract management system was running outbound campaigns to prospects with generic titles like VP of Sales, Chief Counsel, and Head of Legal. The problem was, these executives were hard to reach and weren't the people actually dealing with day-to-day contract management. Even when they set up a meeting, they ended up having to have another conversation to work with the actual hands-on decision maker, which slowed down sales cycles.
Through a consultation with DealSignal on their ideal buyer persona, we were able to collaboratively identify prospects with titles and skills that fit the pains and needs their solution really solved. They shifted their targeting to prospects whose roles included keywords like sales operations, deal desk, CPQ skills, legal operations, contract management, and related data management skills.
With these refined personas tied to their target accounts, the company was able to scale precise decision-maker lists to get comprehensive coverage of their actual ideal buyer, and then personalize their cadences to get the most traction. They were able to personalize every email, every phone call, and every outreach through social media. As a result of this precision targeting and personalized outreach, they increased the number of meetings booked per week by 2.5x. Read the full case study.
Prioritize accounts that are in-market to quickly grow revenue pipeline
If you spend your time and resources contacting 10 accounts in your target market, it's possible that your outreach will result in zero deals if none of those targets are actually in shopping mode. On the other hand, with accurate intent data, you can identify 10 accounts that both fit your ideal customer profile (ICP) and are actively in the market for your product, so you can potentially gain 10 new opportunities. When you know that a prospect has intent, you're aiming at a much higher probability target. Intent gives you the insight to reach the right people at the right time and maximize your outreach efforts.
How data improves revenue
If good data makes you more productive and improves your performance, then it goes without saying that it can also improve revenue generation.
Understanding your prospect shortens time-to-revenue
The longer it takes a lead to move down your sales funnel, the more frustrating the process can be. Sales and marketing teams can feel like they're working without reward. Good data helps you gain insights about your prospects so you can effectively guide them through the buyer's journey.
It enables you to understand your targets' professional characteristics, as well as their skills and interests. This information supports the relationship-building process and helps you discover their real needs and pains, so you can better map your solution to their profile. By the time you get to the meeting stage, you should have enough information to efficiently communicate your value in a way that speaks directly to their needs and concerns.
Accelerate opportunities by reaching all stakeholders
Every salesperson receives a singular inbound lead from a company and needs to respond. But what if the inbound lead doesn't fit your ideal buyer criteria? What if they're a junior person who isn't the technical decision maker or the economic buyer? According to Gartner, "the typical buying group for a complex B2B solution involves six to 10 decision makers." Great sales people know that while engaging the inbound lead is important, they need to quickly determine who else may be in the actual buying committee, and engage each of those stakeholders to position their product or solution to the pains and needs of each one.
Here's how Twilio is doing it. They receive hundreds of thousands of inbound leads from low-level junior developers requesting access to their API. While engaging with the low-level inbound lead, their sales team used DealSignal's ad hoc prospecting tools, including the Capture Chrome extension, to find the Head of Product, the Head of Engineering, and the appropriate product and engineering people with communication API skills. They were able to quickly save all the stakeholders in the deal in their CRM, while getting real-time verified emails and direct phone numbers.
They used the B2B data on their full stakeholder committee to orchestrate outreach to tech decision makers and economic buyers, resulting in a 10x increase in lead-to-opportunity conversion and an eight-week reduction in the time to BANT-qualified opportunity. Surprisingly, they also found that the low-level developers tended to use the free version for up to six months. In contrast, they were able to offer the technical decision makers the premium version of their tool, resulting in a won opportunity in less than 90 days.
By using ideal persona criteria to reach all the stakeholders in your target accounts rather than relying on an individual inbound lead, you will convert more leads to opportunities, advance your opportunities more quickly, and best position your solution for each stakeholder.
Everything you do depends on data
Data plays a role in every strategy you plan and every tactic you pursue. The higher the quality of that data, the more effective you are. The best data vendors deliver accurate, up-to-date data that helps you work smarter, not harder.
Free Guide: Questions to Ask B2B Data Vendors
Evaluating B2B data vendors? This free guide will help!