In a Nutshell
Searching for high-quality, accurate leads without stretching your budget? Turn your attention to DealSignal.
Utilizing state-of-the-art machine learning algorithms, DealSignal extracts the most viable leads from an assortment of sources including social platforms, recent news, and professional listings. Whereas Lusha might offer commendable data precision, DealSignal confidently promises a superior data accuracy rate of 97%+. This unmatched accuracy is attributed to their dynamic, multi-tiered verification system that harnesses the power of AI, machine learning algorithms, robotic processes, and dedicated human researchers to revalidate your data right before delivery.
Moreover, when it comes to cost-efficiency, DealSignal triumphs over Lusha, ensuring you acquire the vital leads you're after without exhausting your budget. Catering to the unique requirements of both budding startups and well-established enterprises, DealSignal solidifies its position as the premier choice for businesses across the spectrum. So, why compromise with potentially outdated or less reliable data when DealSignal guarantees the freshest and most precise leads in the market?
DealSignal Overview
DealSignal is a tool that helps businesses reach the right people they want to talk to. It has information on over a billion companies and people worldwide, each with numerous details. The platform's foundation is based on unique data verification techniques, consistent data maintenance and purification, and AI-enhanced matching algorithms, guaranteeing unmatched data precision and reliability. In simple terms, it makes sure businesses have the best and most accurate information to work with.
DealSignal's primary advantage lies in its unwavering dedication to data quality. Recognizing the imperative nature of precise and current information for businesses, we have established a stringent data verification mechanism. This sophisticated multi-tiered process, incorporating AI, machine learning, automated systems, and human oversight, ensures data authenticity right before delivery, minimizing the necessity for clients to conduct additional verifications.
Our expansive data reach allows us to augment data provisions for our clients across international markets, varied industries, and even within specific segments of industries.
So, no matter how big or small your business is or who you're aiming to reach, DealSignal can give you top-quality data to help with finding leads. Plus, our expert team is always ready to provide the latest data updates, making sure our customers always have the freshest and most accurate information. It's worth mentioning that DealSignal's detailed and customized data service is unmatched in the B2B lead generation market.
Overall, the fusion of advanced technological infrastructure, meticulous data validation methodologies, and distinctive attributes render DealSignal the quintessential option for enterprises aiming to optimize their lead generation trajectory and enhance the precision of their database.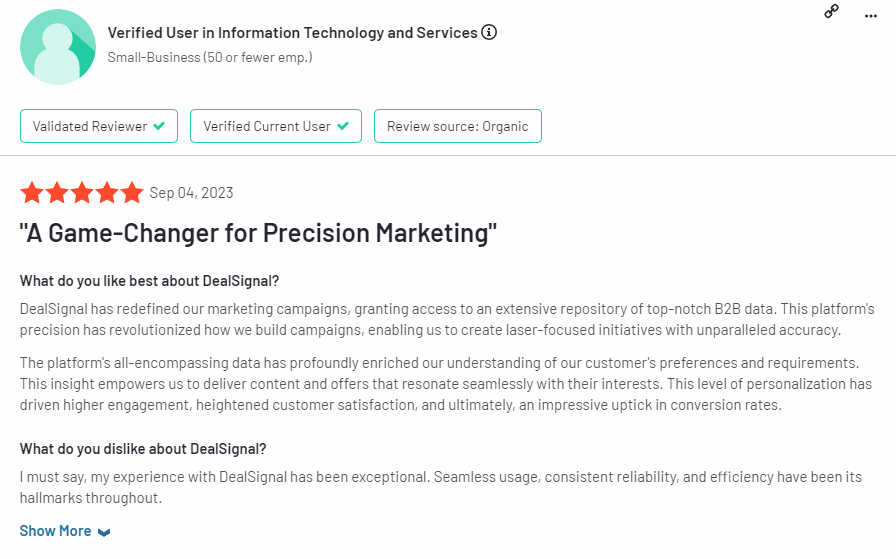 Lusha Overview
Lusha has established itself as a significant entity in the B2B data enrichment and lead generation landscape. The platform specializes in aiding businesses in streamlining their outreach and sales initiatives. One of Lusha's primary offerings is its ability to furnish businesses with direct phone numbers and email addresses of potential leads. This feature greatly amplifies the proficiency of sales teams, enabling them to establish direct and impactful connections.
Additionally, Lusha takes pride in its diverse data extraction capabilities. The platform obtains information from an extensive range of public sources, ensuring its data encompasses a broad spectrum. However, not everyone agrees with their methodologies regarding this topic. Keep reading to find out why.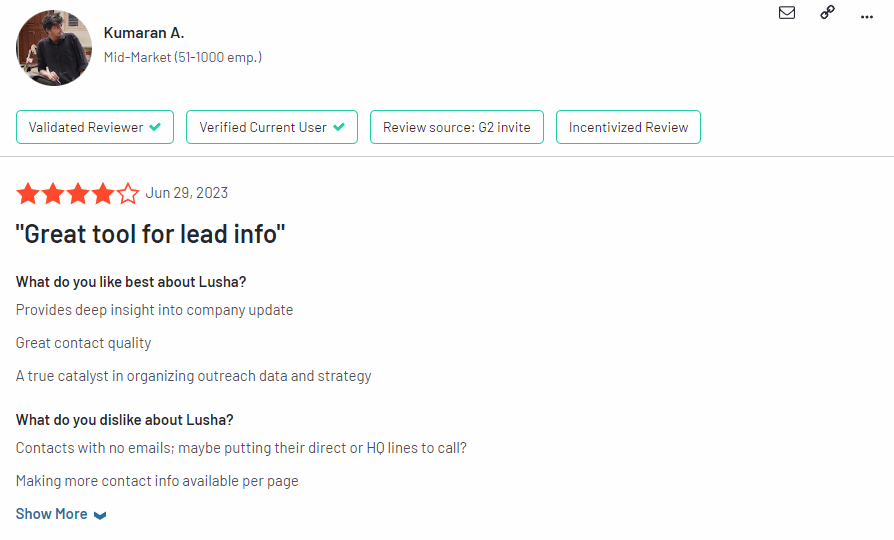 Quality
While Lusha stands out as a formidable presence in the B2B data enrichment sector, it's essential to delve deeper into the quality of data each platform offers. Lusha indeed boasts commendable accuracy rates, with their email contacts hovering around a 70-80% accuracy mark and mobile contacts at an impressive 80-90%. These figures, while notable, do not measure up to DealSignal's staggering 97% data accuracy.
What sets DealSignal apart is not just the high percentage of accuracy but also the mechanisms employed to achieve it. At DealSignal, we don't merely collate data; we ensure its authenticity through a dynamic data verification process. This meticulous procedure guarantees that the data delivered to our clients is not just abundant but also precise and trustworthy.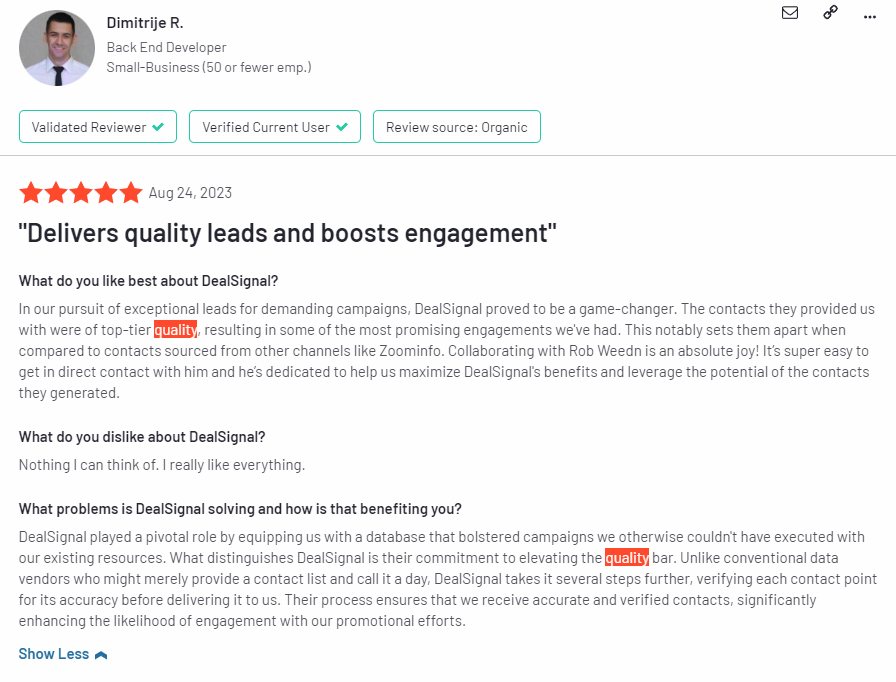 In the rapidly evolving world of B2B marketing, where the quality of leads can significantly impact conversion rates and sales outcomes, even a few percentage points can make a considerable difference. While Lusha offers a robust platform, when it comes to the sheer accuracy and reliability of data, DealSignal holds a distinct advantage.
Integration
DealSignal provides numerous strong integration options, facilitating a straightforward experience for companies to tailor the platform to their specific data requirements. It effortlessly connects with numerous other platforms, including Salesforce, HubSpot, and Marketo, ensuring smooth and direct access to enhanced and precise lead information.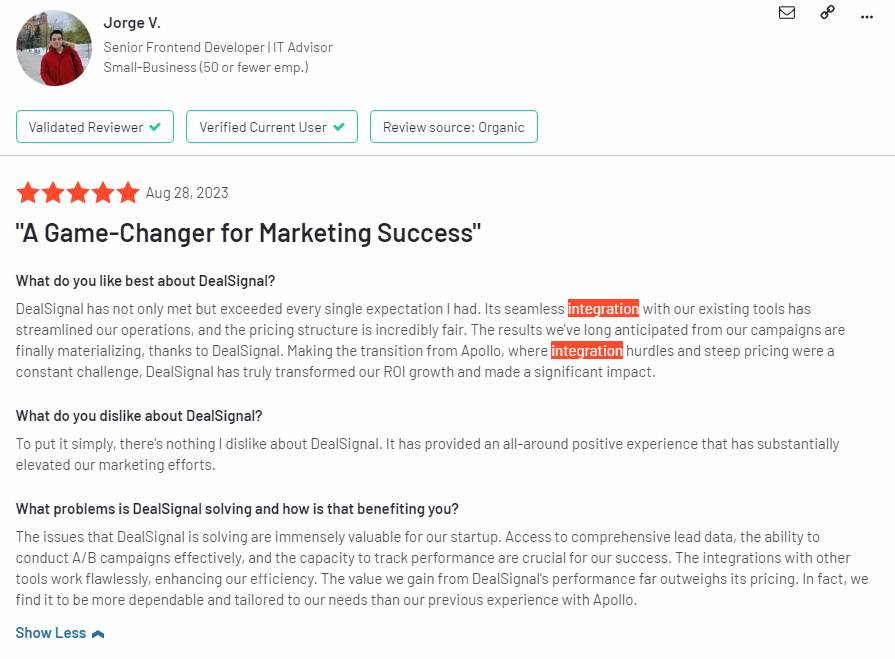 Lusha offers a selection of integrations tailored to enrich and streamline your data management processes. With easy-to-establish connections to prominent platforms like Salesforce, HubSpot, and Outreach, Lusha ensures a seamless transition of valuable lead and contact information directly into your workflow. This accessibility empowers businesses to effortlessly enhance their CRM data and optimize their sales engagement strategies.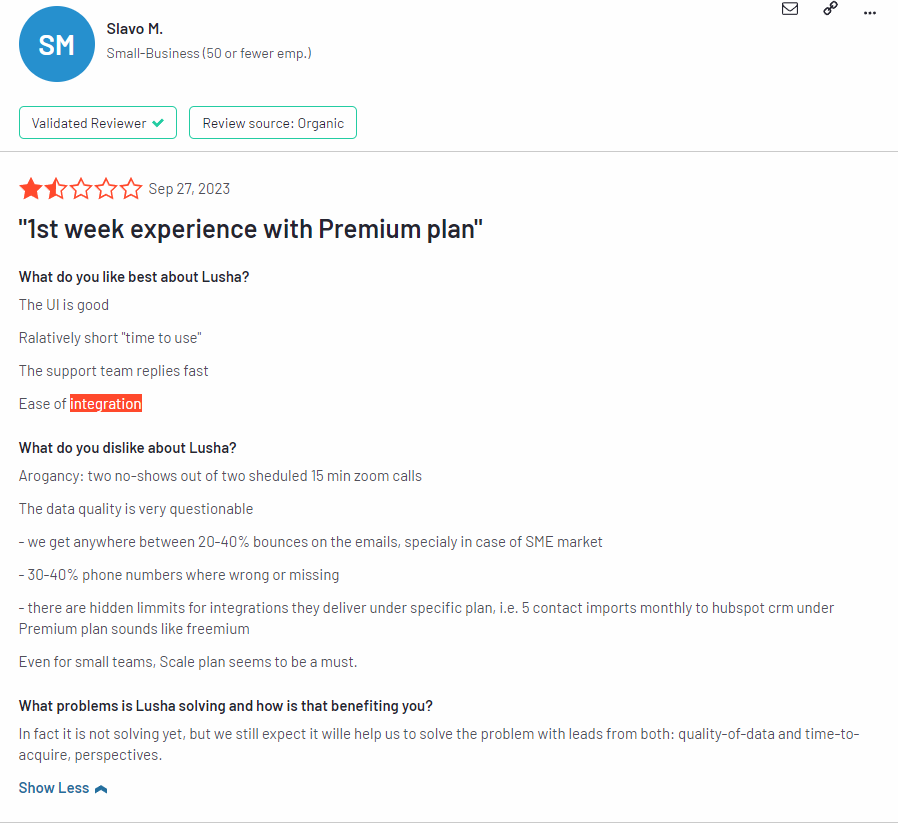 In conclusion, while Lusha offers valuable integrations with key CRM and sales engagement platforms, DealSignal stands out for its comprehensive integration options, real-time data synchronization, and unparalleled customization capabilities. These features ensure that DealSignal is not only a data platform but a powerful tool that seamlessly integrates into and enhances your existing workflow, making it the superior choice for businesses looking to leverage their data to its fullest potential.
Pricing
When evaluating B2B data enrichment solutions, it's not just about data quality; pricing and value play a pivotal role. This is where DealSignal clearly distinguishes itself.
Starting with entry-level pricing, DealSignal emerges as the more budget-friendly option. The affordability does not mean a compromise on quality, as highlighted by our impressive 97% data accuracy. What makes this even more appealing is that with DealSignal, you're not wasting funds on inaccurate data. Our refund policy is a testament to this: for any data point found lacking in accuracy (that rare 3 %), a refund is promptly issued. In contrast, Lusha's refund mechanism isn't as generous; they don't offer a full refund for inaccurate data, which can affect the overall cost-effectiveness of their service.
Lusha's prowess, particularly with mobile phone databases, is commendable. However, its manual mode of operation can be a hindrance for businesses seeking efficiency. You have to invest time and effort to extract the required information. DealSignal, on the other hand, automates this process. We sift through vast data reservoirs, pick the most relevant information for your needs, and deliver it directly to you. This not only saves time but also optimizes the resources you would have otherwise allocated to manual data extraction.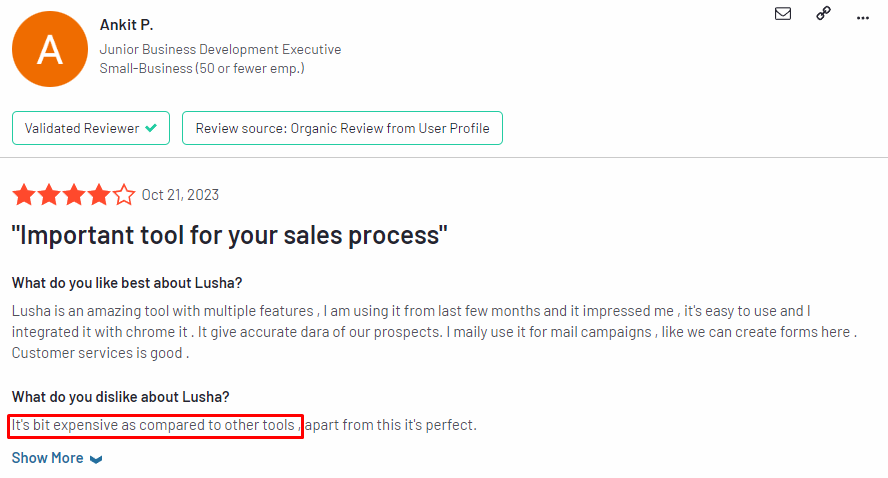 In summary, while both platforms offer valuable services, DealSignal presents a more cost-effective solution with the added benefits of higher data accuracy, a superior refund policy, and automated data delivery, maximizing both value and convenience for businesses.
Compliance
Lusha: Historically, Lusha has made efforts to ensure that its operations align with GDPR General Data Protection Regulation) regulations, which are European standards to protect individual data. They aim to provide transparency about how they collect and use personal data.
DealSignal: DealSignal, like many companies in its industry, likely has measures in place to ensure GDPR compliance, especially given the scope and reach of their operations in regions where GDPR is applicable.
It's essential for companies handling vast amounts of personal data to have robust data storage and security measures. Ensuring encrypted storage, secured data transfer, and regular security audits are vital.
Both companies would prioritize this, given the sensitive nature of the data they handle.
GDPR and other regulations necessitate that individuals have a clear mechanism to opt out of databases and prevent their data from being used.
Reputable B2B data solutions would offer clear opt-out instructions for those who do not want their data used or sold.
Ensuring data accuracy isn't just about service quality but also about compliance. Misinformation can lead to unintended regulatory breaches.
As highlighted earlier, DealSignal boasts a 97% accuracy rate, which not only makes their service valuable but also contributes to compliance adherence.
For the most accurate and detailed information on their compliance with specific regulations, you should consult their official documentation or reach out to them directly. Often, platforms will have a dedicated section on their websites about compliance, and they might offer detailed whitepapers or resources outlining their compliance measures.
Not to honk our own horn, but we've had no trouble with public scrutiny and accusations regarding our methodologies, unlike Lusha. A couple of years back someone wrote an article on the topic of "Personal Data Harvesting" and mentioned Lusha as an example. Feel free to read the article for yourself and form your own opinion.
Customer Support
In today's digital age, the importance of exceptional customer service cannot be understated. It forms the bedrock of long-lasting business relationships and significantly influences a company's reputation.
Unfortunately, there have been notable grievances raised against Lusha's customer support. Some users have reported questionable practices related to data privacy, expressing concerns over receiving an influx of robocalls shortly after registration. Others have expressed frustration over Lusha's data quality and lack of relevant contact filtering.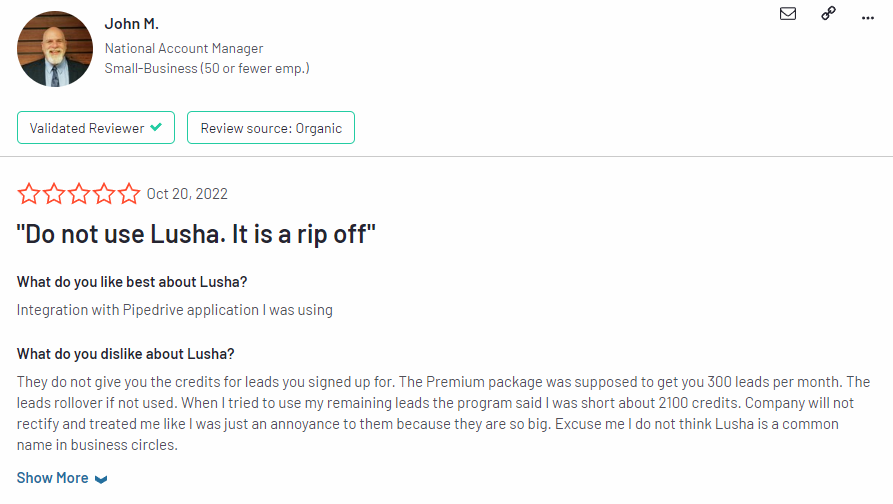 Furthermore, issues such as the inability to retain credits upon canceling billing and sharp price hikes without prior notice further aggravate customers. However, one of the most recurrent themes in these criticisms revolves around Lusha's lackluster customer support. Multiple accounts describe experiences ranging from unresponsiveness and lack of empathy to slow email responses and perceived disinterest in genuinely assisting customers. Such feedback, while concerning, emphasizes the crucial role that customer service plays in user satisfaction.
In stark contrast, DealSignal's customer support has consistently received commendations for its timeliness, responsiveness, and extensive knowledge. Users have consistently highlighted the instrumental role that DealSignal's support team plays in making their experience seamless and productive. Not only has the team been praised for their ability to assist users in navigating challenges, but their proactive approach in optimizing user experience has also won them significant praise. The team's dedication, as described by customers, transcends basic service levels; it's about forging a partnership and ensuring user satisfaction at every turn. Their intent data tool, superior data quality, and responsiveness further fortify their position as a leading B2B data provider. It's evident that DealSignal's emphasis on exceptional customer service has deeply resonated with its user base.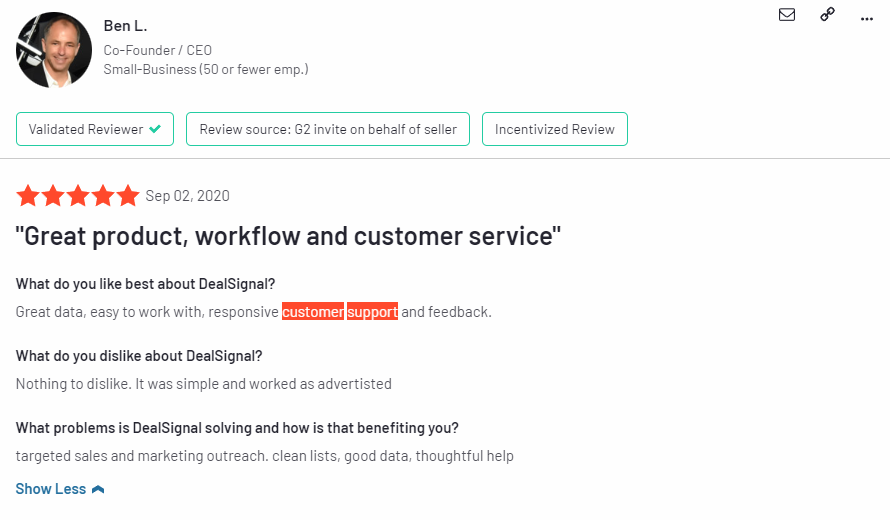 In conclusion, while both Lusha and DealSignal provide pivotal B2B services, their approach to customer support seems diametrically opposed. As the feedback suggests, DealSignal's dedication to its users is palpable, fostering trust and loyalty among its clientele. Such a commitment underscores the difference that genuine, top-notch customer support can make in the business landscape.
Conclusion: DealSignal vs. Lusha – Which is Better?
When comparing DealSignal and Lusha, several key aspects stand out. DealSignal offers a staggering 97% data accuracy rate backed by advanced verification systems, ensuring businesses receive top-tier, reliable information. While Lusha has commendable features, concerns surrounding its data collection methods and reported issues with customer support might be deterrents for some businesses.
In terms of cost, DealSignal presents itself as the more budget-friendly option without compromising on quality, further streamlining its appeal through an automated data delivery mechanism.
Perhaps most notably, the realm of customer support sees DealSignal shining bright. The consistently positive feedback it receives stands in contrast to Lusha's more mixed reviews.
In essence, DealSignal's blend of high accuracy, affordability, and exemplary customer support makes it the front-runner for businesses focused on efficient lead generation and reliable partner relationships.
If you're interested in learning more about DealSignal's data intelligence platform, we encourage you to book a demo with our outstanding team of class-leading data analysts.